Are you looking for fun things for couples to do together? Or cute date ideas and activities that will help you to bond and grow together as a couple?
Well today, we have put together a list of over 100 fun things every couple can do either at home or outside to enhance their relationship.
Even better, we have grouped them according to activities you can do all year round, Summer, Fall, Winter, and Spring.
Just choose a section to start with:
Fun things for couples to do all year round
Summer activities and date ideas for couples
Fall activities and date ideas for couples
Winter activities and date ideas for couples to do
Spring activities and date ideas for couples
90+ Fun things for couples to do all year round
1. Have fun and engaging conversations.
Not sure where to start? Use these thought-provoking questions for couples.
2. Play a board, card, or dice game.
Click here to see the best board, dice, and card games for couples.
3. Visit a sex toy shop.
This activity is so much fun. It will spark some interesting, intimate, and engaging conversations. In fact, every couple needs to visit one. 🙂
You could also do online research for sex toys you can add to your collection.
Click here for fun couples sex toys if you don't know where to start. 
4. Do a random act of kindness for a stranger.
5. Share what you have learned about lately with each other.
6. Create a couples bucket list together.
One of the memorable things to do as a couple is accomplishing a bucket list goal together. If you don't have one, today is the perfect day to create it.
Click here to discover 115+ fun bucket list ideas for couples.
7. Create a book of your love story.
(Here is a great one to use, Our Love Story Journal.)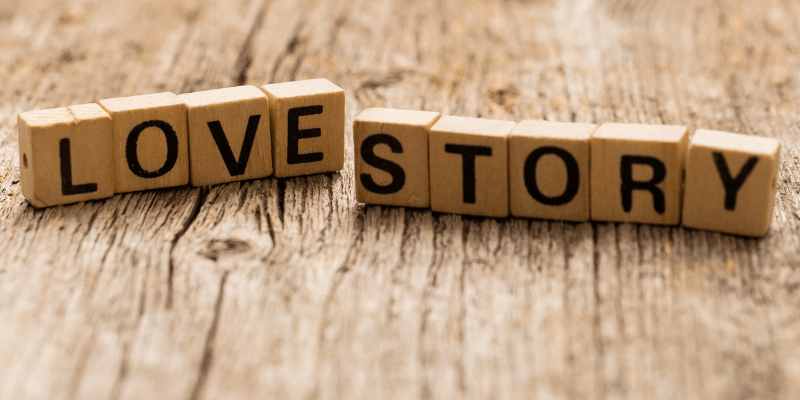 8. Take a fun quiz together.
Click here to discover the best quizzes for couples to take together
9. Go on a road trip.
10. Read one chapter in a book about relationships, parenting, or something important and relevant to both of you.
Then discuss what you learned from that chapter together.
11. Go fruit picking.
12. Watch a TEDx Talk and discuss what you learned from it.
Below is one of our favorites: Start With Why by Simon Sinek.
You can also click here to see the most popular TED Talks of all time.
13. Play mini golf.
14. Go to a drive-in movie.
15. Make a family mission statement or pick a family theme.
If you don't know where to start, click here to read our family theme article.
16. Do something absolutely spontaneous.
17. Become a cold case detectives by working together on unsolved mystery cases like the one below.
An activity that will keep you both challenged, engaged, and strengthen your team working skills.
18. Plan a vacation (or mini-vacation) together.
Discover 100+ fun things for couples to together today.
Click To Tweet
19. Go to a sports game.
20. Go out to eat, preferably somewhere you have never been before.
21. Have a relationship and a life review.
Simply review your relationship from where it has been, to where it is now. Then ask these questions
• Are you having fun as your relationship grows?
• Are you progressing?
• What can you do to improve your relationship?
22. Go rock or rope climbing.
23. Write each other a poem, love or gratitude letter.
Click here to learn how to write a love letter. 
Click here for gratitude journaling prompts.
24. Get a couples pedicure and manicure together.
25. Visit a national park near you.
26. Binge watch a suspenseful and/or thrilling TV series.
27. Build something together at the beach, and take a picture of it.
This is a cute date idea that will be remembered many years down the road.
28. Cook a meal from scratch or a new recipe together.
29. Print out and color some pages.
If you have a coloring book, then just color some of the pages together.
30. Visit a winery.
31. Visit a museum.
For museums, pick one based on your interests like art, ceramic, sports, photography, sex, music, filming, fashion, food, maritime, science, children, history, cultures, etc.
32. Pick a new recipe and have fun trying to make it together at home.
33. Go for a hike where you live.
34. Take turns planning a surprise fun outing or experience for each other, then go do it.
Another cute date idea for couples to try.
35. Have appetizers at one restaurant, dinner at another, and dessert somewhere totally different.
36. Attend a paint and sip together.
37. Go to a pottery cafe and have fun painting pre-made pottery.
38. Spend the day at a family fun center with bumper cars, mini golf, or batting cages.
39. Go roller skating or rollerblading.
40. Go for a bike ride.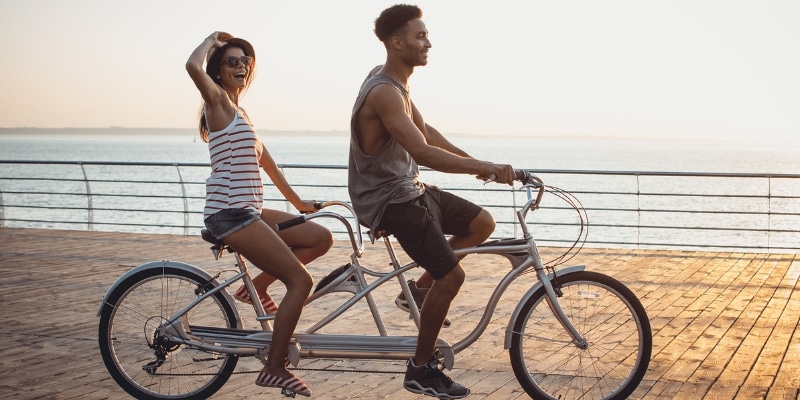 41. Take Gary Chapman's FREE 5 Love Languages test online. (Click here to take it.)
Then have a discussion about it. Two great conversation starters for couples to use are:
⇒ What are 3 practical things I can do to speak your primary love language?
⇒ What is your secondary love language?
42. Go paddle boarding, canoeing, or kayaking.
43. Visit an aquarium or museum.
44.  Play a musical instrument together.
45. Go to a teahouse and have a fun conversation with each other.
You can bring this questions for couples book to use as your conversation starter.
46. Do a color run.
47. Plan a weekend getaway in the mountains.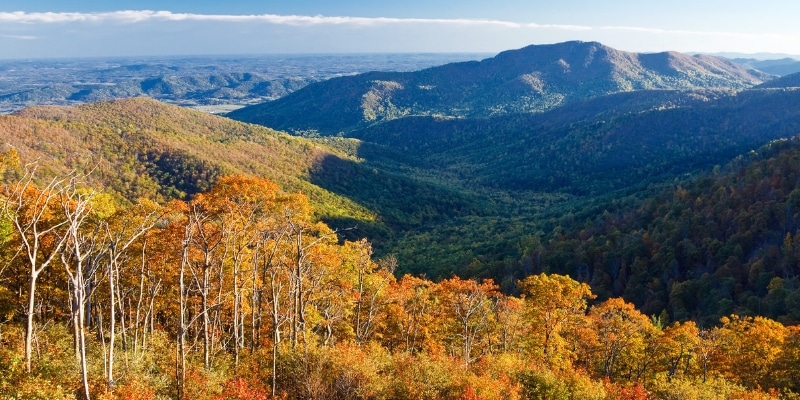 48. Take a tour of a brewery or vineyard.
49. Take a yoga, pottery, or cooking class.
50. Have a discussion about sex.
Here are 8 conversations every couple needs to have about sex.
51. Have a picnic in the park.
52. Take dance lessons like salsa dancing.
53. Volunteer at your local non-profit.
54. Get a couples' massage. Or give each other one.
If you don't know how to give one, click here to check out our couples' massage board on Pinterest.
55. Have a movie night at home complete with popcorn, ice cream, and whatever other goodies you want.
56. Take a day trip to the beach.
You can walk, dance, do yoga, exercise, watch the sunrise and sunset, have a picnic, or even play a board game together while you are there.
57. Start a blog to share your opinions, experiences, or expertise.
You can start one for free using Medium.
58. Watch the sunset together.
59. Dance until the sun comes up, ideally, to your favorite music.
60. Visit a chocolate factory.
61. Start your own book club with other couples.
62. Join a protest.
63. Go on a trail ride.
64. Do one of these simple communication exercises for couples together.
65. Go out for breakfast or brunch.
66. Learn a new sport, such as tennis.
67. Travel to another country or state near where you live.
68. Attend a karaoke event.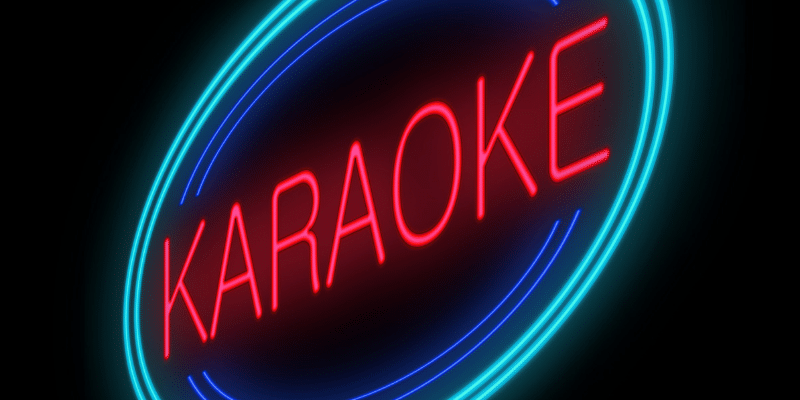 69. Pick out lingerie together and then take turns giving each other a lap dance.
70.  Go for an evening or night walk.
71. Attend an open mic.
72. Learn a new language.
73. Attend a high school or college sports game, theatre event, etc.
74. Visit an antique store.
75. Play pool.
76. Start setting your goals for next year or review the goals you have set together this year.
77. Go for a hot air balloon ride.
78. Explore 3 mom and pop shops in your town or city.
79. Have a blind date with each other.
80. Reorganize one of the rooms in your house.
For example the bedroom, office, living room, kitchen.
81. Take a walk in the park.
Even when you are bored, going for a walk will always re-energize you.
82. Go to your local park and play frisbee.
83. Go to your local bookstore and find a book to read.
84. Attend a comedy show.
85. Take a workout class like P90X together.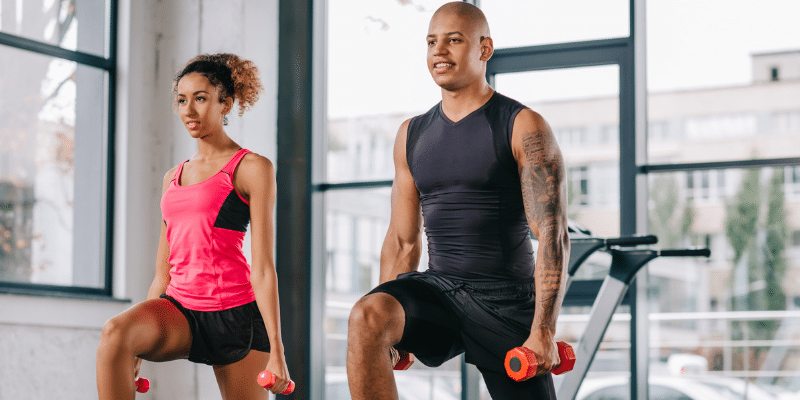 86. Visit a Spa.
87. Go for a scenic drive.
88. Take a martial arts or self-defense class.
89. Watch your wedding video.
90. Go fishing.
91. Host a game night with friends.
92. Go window shopping.
93. Try your first neurographic art.
Watch the video below to see how to get started.
You can also draw one of your favorite "first date" pictures.
94. Visit a water or theme park, and have fun.
95. Complete an activity book together.
Click here to see our list of fun activity books for couples.
10 Summer activities and date ideas for couples
1. Enjoy a beach vacation or go to a beach near you.
2. Go out for ice cream.
3. Host a BBQ.
4. Have a water balloon fight.
5. Go to a fair.
6. Go to outdoor music festivals, street fair, or concerts.
7. Go to a farmers market, pick out some new vegetables you have never tried and then go home and cook them to try.
8. Go camping.
9. Go blueberry, strawberry, raspberry or blackberry picking.
10. Rent a lakehouse for the week.

13 Fall activities and date ideas for couples
1. Get a pair of matching hoodies for couples, and wear them together during fall or winter.
2. Go apple picking.
3. Get fresh apple cider and cider donuts, or make your own.
4. Have a fire and make s' mores under the stars.
5. Go to a haunted house.
6. Jump in leaf piles and play games on the lawn.
7. Make your way through a corn maze.
8. Visit a fall festival.
9. Paint or carve pumpkins.
10. Go backyard camping.
11. Make caramel apples.
12. Host a bonfire party.
10 Winter activities and date ideas for couples to do
1. Go ice skating and have hot cocoa.
2. Start a new tradition.
For example, you can cut down your own Christmas tree.
3.  Decorate for the holidays.
4. Take a weekend getaway at a cabin in the mountains.
5. Spend the whole day in bed.
6. Bake and decorate gingerbread houses.
7. Put together a large puzzle on a day you are snowed in.
8. Go snowmobiling.
9. Build a snowman.
9 Spring activities and date ideas for couples
1. Visit a botanical garden and take lots of pictures.
2. Take a bubble bath with candles.
3. Color eggs.
4. Plant flowers, or vegetables.
5. Go paddle boating.
6. Rearrange the furniture in your house.
7. Take a day trip to another city and explore.
8. Paint rocks and make a rock garden.
9. Bring cards, or a game, and play while having a picnic at a local park.
Final thoughts
Pick the 3 things you both love the most, and go have fun doing it this week.
As you can see, some are free, cheap or inexpensive, while others require money. So pick the activities that fit within your financial plan and goals.
We hope you found this list of fun things for couples to do useful.
Your turn
Which of these fun activities for couples to do is your favorite? Why?
You might also like:
69 Thought-Provoking Questions for Couples
115 Exciting Bucket List Ideas for Couples
Best 94 Board, Card, and Dice Games for Couples to Play Together
How to Communicate with Your Spouse Without Fighting (In 7 Simple Steps)
14 Fun Activity Books for Couples