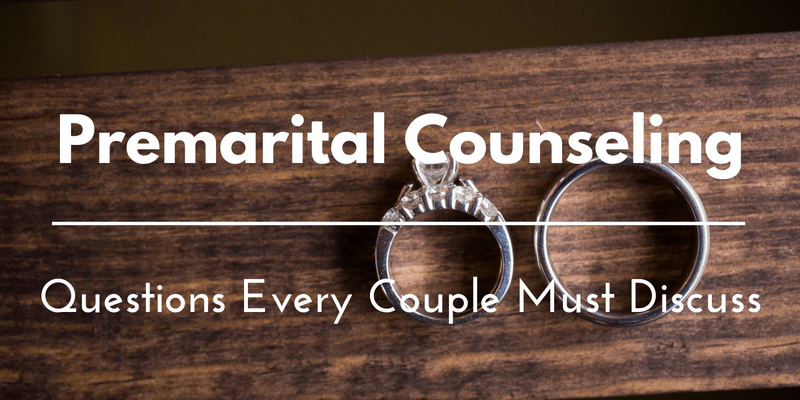 Are you about to get married? We are excited to help you start your marriage right by discussing the premarital counseling questions below with your soon to be husband or wife.
As a married couple who help newlyweds adjust to married life, we know the premarital questions below will help you both to prepare well for your marriage. In addition, you will be able to discuss your marriage expectations and get to know each other better.
To make it easier for you, we have grouped these pre-marriage counseling questions into five premarital counseling topics. Choose your best 20 questions and discuss them together.
Note: The questions are excerpts taken from our newlyweds' guide, First Year of Marriage: The Newlyweds Guide to Building a Strong Foundation and Adjusting to Married Life.
Premarital counseling questions about sex
1. What are the minimum and maximum amount of times you want to have sex in a week?
2. How do you want your spouse to express their affection for you?
3. What gets you in the mood to make love? What turns you off?
4. What do you think about sex toys for couples? Have you had any experience with sex toys?
5. Where do you crave to be touched before, during and after sex?
Click here for more sex questions to discuss.
Premarital counseling questions about money
6. Will we have a budget every month?
7. Are you comfortable putting all our money together and sharing an account?
8. How much will you spend on groceries a week/month?
9. How much will you spend on personal money each week?
10. Are you okay with staying in debt or do you want to live debt-free?
25 Premarital counseling questions every couple must discuss before getting married.
Click To Tweet
Premarital questions about household expectations
11. How often do you expect to eat out each week?
12. How will you divide up the household duties?
13. What role do you play in a marriage?
14. What is your spouse's role in marriage?
15. What does the word love mean to you?
[Relationship Quiz: How Well Do You Know Your Partner?]
Premarital questions about relational expectations
16. What kind of rules do you want to establish for our marriage?
17. How can I show you that I love you?
18. What is something I do now, or could do in the future that would make you not trust me?
19. Is a great career more important than our marriage and family?
20. How did your family resolve conflicts when you were growing up? Was that a good method or not? What would you change about the way they resolve conflicts to apply to our marriage?
Miscellaneous premarital counseling questions to discuss
21. What influence, if any, do you believe our families should have on our marriage?
22. How do you define emotional and physical infidelity?
23. Will you go to marriage counseling if I ask you to?
24. Where do you want to live?
25. What happens if one of you changes your spiritual beliefs?
For more questions to discuss, click here to discover 69 thought-provoking questions for couples.
Even better:
Get a copy of our book: First Year of Marriage: The Newlyweds Guide to Building a Strong Foundation and Adjusting to Married Life to read today.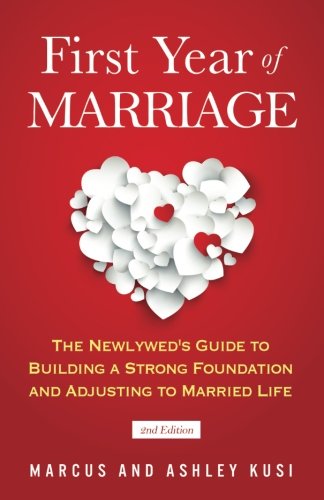 In this newlyweds' guide, you will learn how to adjust to married life, build a strong foundation, and survive your first year of marriage.
Plus, it has over 100 marriage questions that you can discuss together and a FREE printable workbook to use along with the book.
In fact, when it comes to recommending books for newlyweds and engaged couples, this is the book we recommend because it's practical, non-religious, easy to read, and relatable.
Discuss your premarital questions together
Choose the best 20 premarital counseling questions you want to discuss with your soon to be spouse. Then print a copy of it and discuss the questions with your soon to be husband or wife.
Needless to say, you must both be honest and truthful with your answers because lying will lead to having trust issues after you get married.
With that said, if you have difficulty communicating with each other, learn how to communicate without fighting right now.
On the other hand, instead of choosing your own questions, you could also use our FREE premarital counseling questions printable PDF below.
Free premarital counseling questions printable
Click here to download our list of 20 premarital counseling questions printable for free. (The marriage questions in this printable were taken from the list of 25 above.)
If you have a Pinterest account, you can click here to pin the questions onto your favorite board and remember to follow us there.
You can also use the questions as conversation starters prior to your wedding day, and even after getting married.
For example, we occasionally go through some of the questions during our marriage checkups as some of our answers change over the years.
Side note: If you are a professional marriage counselor or coach, feel free to incorporate these questions into your premarital counseling questionnaire.
Final thoughts
Use these premarital questions to work on your marriage expectations pre-wedding, instead of post-wedding.
Because the earlier you know each other's expectations about marriage, the easier adjusting to married life will be for you. Furthermore, your first year of marriage experience will be a whole lot better too.
Lastly, don't forget to enroll in one or multiple premarital counseling classes before your wedding.
We hope you found this list of premarital counseling questions helpful.
By working together, you can have the fulfilling marriage you both desire!
Your turn
What other premarital counseling questions would you add to this list?
Which premarital counseling question is your favorite? Why?
You might also like:
30 Pieces of Marriage Advice for Newlyweds
Best 9 Premarital Counseling Books & Workbooks for Couples
69 Thought-Provoking Conversation Starters for Couples
Expectations in Marriage: What to Expect the First Year
How to Change Your Name After Marriage in 8 Simple Steps
Image courtesy Kelseyannvere