As you already know, preparing well for your marriage is a must if you are planning to get married.
Therefore reading a premarital counseling book or going through the workbook is one of the best investments you can make for your marriage.
Simply because it will help you and your future spouse to avoid a lot of marriage issues that newlyweds face.
So don't skip reading one or all of these books if you have not been to a premarital class. Even if you have been to a premarital class or workshop, you will learn something new from these books.
Please note: We have not read all of these books but selected them based on the positive feedback of others.
Best 7 premarital counseling books and workbooks for engaged couples
1. First Year of Marriage: The Newlyweds Guide to Building a Strong Foundation and Adjusting to Married Life by Marcus and Ashley Kusi
Whether you are looking for a premarital counseling book that is religious or non-religious, this best-selling book is a must-read.
You will learn how to build a strong foundation for your marriage, adjust to married life, and survive your first year.
In addition, you will learn how to resolve conflicts and get your sex life off to a great start. There's plenty to learn in this must-read first year of marriage book.
We authored this non-religious premarital counseling book to help newlyweds and engaged couples build a strong foundation for a fulfilling marriage.
This book also comes with a 12-Week Action Plan to help you practice everything from the book. It's the perfect marriage book for newlyweds and engaged couples.
2. Things I Wish I'd Known Before We Got Married by Gary Chapman
This book will help you and your future spouse to develop the loving and supportive marriage you both long for. Dr. Gary Chapman shares all the things he wished he had known before getting married.
Even though this pre-marital book does not have a companion workbook, you will learn a lot from just reading it with your future spouse. It's also another great book for married couples.
3. Saving Your Marriage Before It Starts: Seven Questions to Ask Before — and After — You Marry by Les Parrott and Leslie Parrott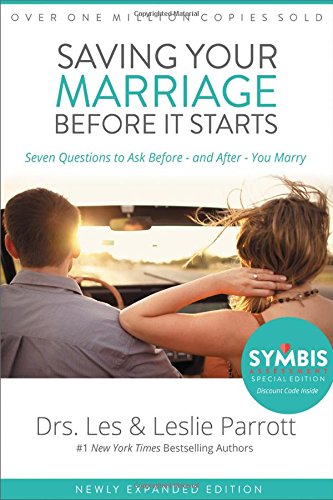 Before you marry, Drs. Les and Leslie Parrott seek to uncover the misconceptions of marriage and give you the tools to communicate with understanding and resolve conflict effectively.
This book is also filled with exercises that will prepare you for a deeper intimacy with your loved one.
It has a companion workbook for women and one for men.
4. Getting Ready for Marriage: A Practical Road Map for Your Journey Together by Jim Burns and Doug Fields
Another incredible pre-marital counseling book, this book acts as a practical roadmap for the journey ahead of you.
This book includes exercises to strengthen your relationship, hard truths about pre-marriage expectations and conversations to help you communicate the marriage expectations you have for each other.
You can buy the companion workbook to go through the exercises with your future spouse.
5. Before You Say "I Do"® by H. Norman Wright and Wes Roberts
A biblical preparation guide for marriage, this book will help you and your future spouse to address questions necessary to know before you commit your life to another.
Questions such as how do you feel love, how do you handle conflict,  what your priorities with money are and much more.
We read and worked on the first edition together before getting married. It's a workbook filled with insights from the authors.
Although we don't agree with everything in this book, it helped us to ask each other questions we never thought of before being married.
Discover the best premarital counseling books and workbooks ( both Christian and non-religious/secular ) for engaged couples.
Click To Tweet
6. Getting Ready for Marriage Workbook by Dianne C. Sloan and Jerry Hardin
This workbook helps engaged couples recognize what baggage they bring into their marriage, how their family has shaped them, and what goals and guidelines they will set for their own marriage.
7. 1,001 Questions To Ask Before You Get Marriedby Monica Leahy
"Though I love my marriage, I wish I had read this one before getting married!" Brittany, one of our loyal readers.
This is a fun and easy read that asks the really important questions and issues that aren't often discussed before the wedding.
These are the questions you should be asking your fiance to make sure that your marriage lasts.
Bonus: The Total Money Makeover: Classic Edition: A Proven Plan for Financial Fitness by Dave Ramsey.
We highly recommend this book if you want to be on the same page with your finances. You will learn how to budget, pay off debt, and have financial peace with your future spouse.
Some of these books are Christian based, however, you can apply what you learn to your marriage.
Pick one premarital counseling book to read
Now that you have this list of premarital counseling books, which one will you read before you get married?
Pick at least one of the books above and read it with your future spouse.
Discuss all the premarital counseling questions together and get on the same page, so there are fewer surprises after you get married.
Final thoughts
Because of the impact marriage books has had on our relationship (before and after getting married), we highly recommend you check out these premarital counseling books today.
It's never too late to read a book that will help you prepare or improve your marriage.
Your turn
What is the best premarital counseling book you have heard of, read, or will like to read?
Image courtesy Edward A