Are you looking for the best Valentines day gifts for your wife? Stumped on what to buy for your wife for this year's Valentine's day?
Look no further than this extensive list of gift ideas and inspiration so you can buy your wife the perfect gift. It's a list of unique and thoughtful Valentine's day gifts you can get for your wife today.
We have grouped them so you can easily go to the section you want to read. Click one link below to get started:
Best Valentine's day gifts for your wife
Sexy, romantic and naughty Valentine's day gifts for your wife
Creative do-it-yourself (DIY) and inexpensive Valentine's day gifts for wife
Unique and thoughtful Valentines' day ideas for your wife
Best Valentine's day gifts for your wife
1. Quizzes for Couples: Fun Questions to Complete Together and Strengthen Your Relationship
This unique book of quizzes for couples is the perfect gift for her, to have quality time and laughter with you.
In fact, it's a lovely activity to do together on Valentine's Day is to see how well you know each other.

If you or your wife don't have a green thumb, then perhaps this is the right bouquet for you. It has "I love you" written all over – literally.
These beautiful origami flowers are a unique and precious gift for your wife on this romantic holiday.
Ornate flowers that she can proudly display. Plus, it will never wilt or die.

3. Questions for Couples: 469 Thought-Provoking Conversation Starters for Connecting, Building Trust, and Rekindling Intimacy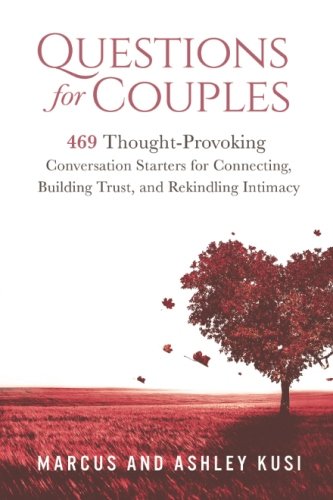 Surprise your wife and bring your romance back to life with this book of 469 conversation starters for couples. Then spend your Valentine's Day evening discussing the questions together.
Because the questions are fun and engaging, it will bring you and your wife closer than ever.
Also, you will both connect intellectually, emotionally, and hopefully have so much fun in the bedroom. 😉
This beauty is delicately made by hand, and out of real wood. Elaborately decorated with tiny cut-out hearts, this card will warm the heart of your romantic wife.
Write in your personal thoughts, and viola! A memorable and unique Valentine's day gift for her.

5. Scarleton Rose Wood Handle Handbag
For the fashion-forward wife, buy her this unique and stylish handbag for any outing.
A bag to go with her leather clutch, she'll be walking around pretty in pink. Perfect for Valentine's day celebrations, this is a gift she won't soon forget.

6. Funny Wife Shirt With Sayings Wife Best Friend Lover Gift T-Shirt

Simple, funny, and cute, this comfy tee is a useful yet lovely gift to give to your wife for Valentine's Day.
Because the shirt has the words "Wife, Best Friend, Lover, Partner, Blanket Thief, Teammate, Finder of All Things Lost", your wife will proudly love to wear it.
It's also available in multiple colors.

7. Glass KindNotes LOVE Keepsake Gift Jar of Messages
This thoughtful gift will leave no doubt in her mind of how you feel.
Filled with dozens of heartfelt messages, this keepsake jar is a gift that keeps on giving way after Valentine's Day has passed.
Each day, your wife will open up a message to remind her of how wonderful a wife she truly is.

This classic-style coffee mug will make for a perfect gift this holiday. For the wife turned coffee addict and for the mother of your children, coffee is a necessity.
She can never have enough fun coffee mugs to help fuel her up! Show her your appreciation through this straight-forward mug that will remind her of what she needs to hear from time to time. She is the best wife, after all.

No need for long explanations for this gift, because this gift card sells itself!
Women can be a bit confusing in the mind of a man, so if you don't know exactly what your wife wants, buy her a gift card to her favorite store! Enough said.

10. Our Bucket List Adventures: A Journal for Couples
Get your wife this lovely bucket list journal for couples, so you can share your dreams with each other on Valentine's Day; an activity that's sure to be fun and exciting.
It's the perfect time to create a couples bucket list together.
Also, you can record all the memorable adventures you have experienced together in this journal too. She will love it!

11. Dreamlines wedding dress sketch.
This is a unique and precious gift you can give to your wife.
All the memories you shared while she wore her dress will come rushing back once she sees this personalized wedding dress sketch.
This is one hand-drawn gift that will be cherished by all who witnessed your special day, and one you can be hung up with pride. It's probably the best Valentine's day gift for your wife.
12. HinsonGayle 4-Strand Handwoven Gemstone & Freshwater Cultured Pearl Necklace
This Hinson Gayle's handwoven necklace will be worn proudly around the neck of your beautiful wife.
This Valentine's Day, buy her this extravagant gemstone and pearl necklace. Pick between three different colors of gemstone for multiple options to best match your wife's taste.

13. Our Love Story Journal: 138 Questions and Prompts for Couples to Complete Together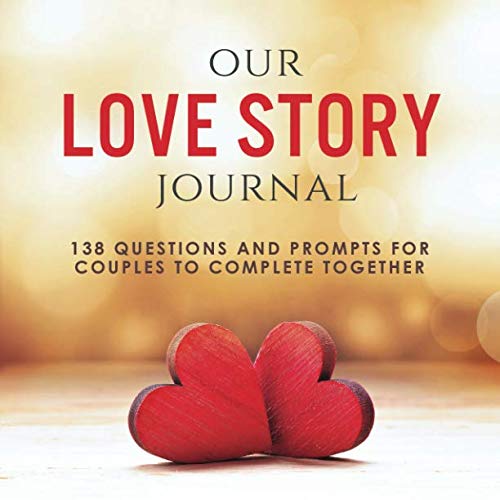 Your love story is unique and beautiful, so write it in words for her to read and cherish on every romantic occasion.
Write in all the words you have for your wife on this special evening, then give it for her to read and reminisce about the lovely moments you have shared together.
A word of caution to you, give with tissues!

14. Set of 2 -Candle, Tea Light Holders
Nothing sets the mood like candles in the dark.
This Valentine's day can be romantic and randy. All you need are the candles lit, the lights dimmed down, and some ambient music of your choice.
Play a song from the past, such as your wedding song, silly memory or even the song playing when you first kissed.

15. Romantic Valentine Mini Wood Card – Personalized I Love You
Finally, a card you can display and one you will never throw away.
Cards are sweet and simple but can clutter up your closets in no time until they are eventually thrown away. This is not the case with a beautiful wooden card such as this one!
Handcrafted and customized to your liking, say "I love you for eternity" with this engraved wooden Valentine's card.

16. Benchmark Bouquets Roses and Oriental Lilies
This gorgeous rose and lily bouquet will make a beautiful and romantic gift for your wife!
Nothing says Valentine's Day like a bouquet.
And isn't it amazing that you can buy farm-fresh flowers online to be delivered straight to you?

17. MAJESTIC PURE Essential Oils Set
This kit is natural, and absolutely necessary! The essential oil sampler set starts you off with their top six scents, including eucalyptus, peppermint, and lavender.
All the oils are therapeutic grade and aid in relaxation, as well as topical health benefits. Each essential oil also has its own function for your body.
Another great Valentine's day gift for your wife, she can now unwind with the aid of these essential oils.
18. Essential Oils Diffuser Necklace
The perfect partner to the Pure Body aromatherapy oils, this diffuser doubles as a beautiful necklace for your wife to wear all day long.
Now, the aromatherapy of her chosen oils will follow her and keep her calm and relaxed throughout her day. Happy Valentine's Day to the lucky lady that receives this great gift.

19. Love Notes From Me to You: A Fun and Personalized Book With Prompts to Fill Out
Do you want to give your wife a gift she will cherish forever? If so, then personalize this "what I love about you" book with your own words and gift it to your wife.
It includes fun prompts that will help you easily express your love for her.

This unique statement necklace says it all on its own.
A personalized necklace to engrave your wife's name, or to write something sweet, will instantly become her go-to necklace.
It comes in gold, rose gold and silver, for all fashion styles.

21. Women's Wallet Trifold Luxury Leather Clutch Travel Purse with Zipper Pocket
This luxurious leather clutch purse is handy and compact.
Perfect for travel and any occasion at all, this trifold wallet will hold all your wife's monetary and personal items for any outing.

This wine glass will make a humorous gift for your wine-loving wife! It's a gift that can be used repeatedly, for all occasions, whether fancy or just-for-fun.
So spread some love and drink some wine with your wifey this Valentine's Day, celebrate with candlelight and wine.

23. Paper Spiritz Love In The Hand 3D Pop up Greeting Card
This sweet little Valentine's day card truly bursts with love for your sweetie.
This is a one-of-a-kind gift card that says I love you in a more personal way. Write in your thoughts and pour out your love to make a gift turned into a keepsake.

A hot bubble bath is just the ticket to a relaxing evening in.
Every woman loves a hot bath for some winding down, so buy HanZa's bath bomb gift set for all your wife's bath relaxation needs. They are ultra lush and ultra-luxurious.

25. Word Search Puzzles for Couples: A Fun Relationship Themed Activity Book
If your wife loves doing word search puzzles, this activity book will be the perfect Valentine's Day gift for her.
And because it's relationship themed, you can even complete it together on one of your date nights.

26. Ekouaer Women's Sleepwear Short Sleeve Pajama Set with Pj Shorts
This lovable short sleeve sleepwear is an excellent gift for your wife who puts comfort first!
Adorable and comfortable, these pj's are a Valentine's Day lover's delight! Lightweight, super soft, and stretchy is all you could ask for in a pair of pajamas.

27. Minx NY Women's Fleece Slipper Socks
Just like the free hug winter socks mentioned before, these too will make a great gift for your wife this holiday.
Fuzzy and warm, these fleece socks hug your feet with every step. These red-and-white socks are perfect for Valentine's day.

28. Kisses 4 Us
Spice up your Valentine's day celebration a bit with Kisses 4 Us, a fun and flirty game full of kissing ideas to switch up your routine!
Valentine's Day is the perfect day to start your switch-up to get to a healthier, sexier physical relationship with your wife. Let the games begin!

29. You Are the Only One in My Heart Sterling Silver Pendant Necklace
Surely the most stunning heart we have ever seen, this sterling silver necklace is one she will love.
The unique, heart shape design reflects the relationship you have with your wife: one of a kind. Let her know how you feel with this extravagantly elegant pendant necklace.

30. Set of 4 Love Throw Pillow Cover
This charming set of throw pillows will be the highlight of your favorite space.
You can never have enough throw pillows. It is a reflection of her good style and taste, and she will love yours when you buy her these.

31. 14K Gold White Freshwater Cultured Pearl Stud Earrings
Made of 14k gold and freshwater pearls, these stunning stud earrings will leave your wife breathless!
A match made in heaven, your wife will cherish these as her favorites for every occasion. Pair them with the HinsonGayle gemstone and pearl necklace so your wife can get all dolled up for evening outs.

32. KindNotes PERSONALIZE-YOUR-OWN Keepsake Gift Jar of Messages
This gift is just like the KindNotes keepsake jar mentioned earlier, but even better.
Now, you can write in your own personalized messages to make a more intimate and thoughtful gift for your Valentine.

33. Gourmet Chocolate Assortment
You can never go wrong with chocolates. She will love it in the moment, and every bite afterward.
Lake Champlain chocolates, in particular, are lush and luxury in a box. Made in Vermont, these mouth-watering chocolates are a tasty assortment for both of you to enjoy – if she lets you!

34. Lucy Womens Sexy Kitchen Pinup Apron in Black Polka Dot and Red with Pocket – Personalize Option
Give your wife a new apron for Valentine's Day. Definitely, a great gift especially if she loves to cook, meal prep, or bake.
Plus, you can personalize it for her.

35. Sterling Silver Unique Large Celtic Knot French Wire Earrings
This remarkable pair of earrings is sterling silver and french wire fabricated.
A unique and ornate design deriving from the Celtic style, these are sure to wow your wife! These earrings are simply stunning in every way.

36. Gmark Women's Novelty Winter Cartoon Cotton Socks
These cute, cartoon socks are a sock lover's dream.
Made of cotton, they provide ultimate comfort. Your wife will love romping around the house in these warm winter socks.
The design is snowflakes and hearts galore, just in time for Valentine's Day.

37. Sterling Silver Diamond Double-Knot Bangle Bracelet
This sterling silver and diamond bangle will make your wife sparkle more than she already does.
An elegant and meaningful piece, this will remind her of the vow you made to each other and of the knot you tied. A beautiful piece, this bangle bracelet is the perfect Valentine's day gift for your lovely lady.

38. Bluecorn Naturals 100% Pure Raw Beeswax 8oz Glass Candle
Love is sweet! Say so to your sweetheart with this natural beeswax candle.
Not only will it make a romantic gift, but it will become a long-lasting addition to your living space. Now, you can set the mood for your Valentine's evening.
Light the candles, turn out the lights, and get it on this Valentine's day.

39. I Know What Love is Because of You Decorative Jewel Musical Music Jewelry Box – Plays You Light Up My Life
An elegant and thoughtful gift, this stunning jewelry box will light up her life (just like the song that plays).
Elaborately decorated with jewels throughout, this special box says "I love you" on a different level and uniquely.
Each time she takes out the jewelry you bought for her, they will remind her of the special Valentine's gift that holds them.
40. Couple's "Raining Love" Pillowcase Set
Snuggle up in bed together with your "raining love" pillow set.
These charming couple's pillowcases are a unique accessory to your favorite sitting spot.
Already Valentine's day themed, these cute cases are something your wife will enjoy with every use.
Sexy, romantic, and naughty valentines day gifts for your wife
A game for both you and your wife, this sexy twist on the game of Truth or Dare is sure to be a fun activity in and out of the bedroom.
You don't need a special occasion to play this little game. Pull it out (the game, I mean) whenever you and your spouse are feeling especially romantic or raunchy.

2. Sex Checks
Money is sexy, right? Well, it is with these sex checks that will never go void!
The checks include gentle prompts if you need help or empty checks for the adventurous at heart. Write-ins are included so you both receive as much as you give!
This is the gift that keeps on giving even after the holiday is over.

3. Women's Crotchless Lace Thong (Click to see image.)
If you want your wife wearing sexy things around the house, buy something you know you both will like and you know she'll wear!
She'll feel sexier just knowing you picked a sweet little something out with her in mind. Let her know you want her with these erotic crotchless panties.

4. ALLureLove Women's Open Cup Crotchless One-piece Teddy Sexy Lingerie Lace Nightie
ALLureLove's Lingerie is by far the most "daring" item on the list.
This little teddy doesn't leave much to the imagination, but it leaves everything out and easily accessible for a night you are sure to remember!
Cap off your Valentine's day celebration and end your night with this seductive teddy.

5. VIPERTEK Double Lock Steel Police Edition Professional Grade Handcuffs
Needless to say, these aren't for the faint of heart.
Professional-grade steel handcuffs, this gift will bring your Valentine's day celebration with your policewoman to a whole new level. No other words necessary, you and your lover can imagine the rest…

Click here for best selling sex toys for your wife. 
Creative do-it-yourself (DIY) and inexpensive valentines day gifts for wife
If you have a tight budget or don't have the $$$, these creative valentine's day gift ideas will be perfect for her.
1. Write a poem or a love letter for her.
If you don't know how or where to start, click here.
2. Turn her photo into a painting.
You can do this yourself even if you are not an artist. The thought of you putting in the effort alone will make your wife feel loved.
On the other hand, you can get someone to make it for you too.
3. Design and create a thoughtful valentine's day gift card for her.
If you are really good at design and creating cards, make a beautiful valentine's day gift card for your wife.
It will be very inexpensive because you most likely have all the tools and materials you need.
Want more:
Click here to check out more creative DIY gift ideas that you can easily do yourself.
It is our DIY gift ideas board on Pinterest. Your wife will love them.

Unique and thoughtful Valentine's day ideas for your wife
Sometimes, your wife might not want to receive something you purchased as her gift for Valentine's day.
Instead, she just wants to connect and spend time with you. Hopefully, the ideas below can help you do just that.
1. Surprise her.
Surprise her with something that will make her smile. And think, "Wow, you surprised me. I never thought of that."
For example, make her favorite breakfast, and deliver it while she is in bed.
2. Go on a date to your favorite restaurant.
And when you get back home, relax and watch a romantic movie with her.
3. Cook for, or with her.
Make her favorite sandwich if you want to surprise her.
Otherwise, plan a meal that you both love and cook it together.
4. Give her the day off.
If your wife is a stay at home, she will appreciate you cleaning up the house.
Do all the house chores unless she wants to do some and during the evening, light up her favorite candle.
5. Tickets to an event or class. 
Get tickets to her favorite concert or a local band. You can also register her for a paint and sip or yoga class.
6. Buy her a gift certificate to her favorite craft store.
Honestly, it's the thought behind your gift that counts.
Let your wife see you pay attention to her interests and hobbies.
Final thoughts
Your wife will love to see her gift wrapped, so don't forget to wrap or buy wrapping paper. 😉
We hope you found this list helpful.
Happy Valentine's Day.
Cheers!
Related:
Best 31 Valentines Day Gifts for Your Husband
Best 52 Christmas Gifts for Married Couples
Best 30 Anniversary Gifts for Parents
69 Thought-Provoking Questions for Couples
101+ Fun Things for Couples to Do Together
Some of the links in this post are affiliate links. (And are at no additional cost to you.) This means if you click on a link and purchase the item, we will receive an affiliate commission.
Image courtesy Sagradart