We have all been there, whether it's for Christmas, their birthday, anniversary or your wedding day, you are left wondering about the best gifts for your Mother in law and Father in law.
You have no idea what to buy for them because they seem to have everything. And usually, they do not come out and tell you what they want.
Here are unique gifts ideas to take some of the guesswork out of gifts your in-laws can share, or gifts for just your mother in law or gifts for your father in law.
Choose one section below to start with:
Best gifts for Mother and Father in Law to share
Best 30 gifts for Mother and Father in Law
Even though your in-laws can share these gifts, you can also gift it to either one of them.
1. Questions for Couples: 469 Thought-Provoking Conversation Starters for Connecting, Building Trust, and Rekindling Intimacy
Get your in-laws this book of thought-provoking conversation starters to use for their next date night, road trip, or dinner. The questions will help them have deeper, exciting, and more meaningful conversations as a couple.
Even if your in-laws have been married for many years, they will discover something new about each other.

2. BOSPHORUS" 16 Pieces Turkish-Greek Arabic Coffee Making Serving Gift Set
Give your coffee loving in-laws a new experience with this unique Turkish-Greek Arabic coffee set.
Your in-laws will love this beautiful porcelain and copper Turkish coffee set. They will enjoy the experience of making sweet, frothy Turkish coffee in the comfort of their own home.

3. Our Bucket List Adventures: A Journal for Couples
Surprise your mother and father in law with this fun bucket list journal for couples. This journal has an activity for couples to do together, which will help your in-laws choose bucket list goals they want to accomplish together.
In addition, it has journaling pages for your inlaws to journal memories from their bucket list adventures.

Any in-law would be thrilled to receive this oversized beach blanket with impeccable detail and high-quality craftsmanship.
Watch your in-law's face when you show them that the blanket folds up into a nifty carrying bag with handle.
Imagine spending time with your new family on a sunny day, sitting on this blanket, and having a picnic. Made from an acrylic wool blend and waterproof backing, this is a gift that withstands the test of time.

5. A set of matching Mr and Mrs t-shirt for your inlaws.
For Father in Law: Mr. and Mrs. Shirts for Couples Honeymoon Mr. T-Shirt Set
Want to get a pair of matching t-shirts for your mother and father in-law? This Mr., and the Mrs. t-shirt below is a lovely Christmas gift set for your inlaws.

For Mother in Law: Mr. and Mrs. Shirts for Couples Honeymoon Mrs. T-Shirt Set
The perfect t-shirt for your mother in law to match with the Mr. t-shirt above for your father in law.

6. Our Love Story Journal: 138 Questions and Prompts for Couples to Complete Together
This unique love story journal is the perfect gift for your inlaws to capture their love story together.
Even better, they can pass it on as a keepsake for future generations.

7. Discovery game for a married couple
Whether your in-laws have been married a year or 50 years, this game will keep them on their toes while they have fun learning new things about each other.
Every game playing in-laws will love playing this fun game of discovery, especially when new things they never knew about each other comes out.

8. Klikel Family Tree Picture Frame With 10 Hanging Picture Frames
This beautifully designed family tree picture frame is perfect for the in-laws that have everything.
Load it up with favorite family pictures so it's ready for display right out of the package.
Shopping for the in-laws that have everything? Give them a gift that they can "hang out" in!
Unique, comfortable, and relaxing, this hammock has every quality needed for some serious you-and-me time.  You can choose from a variety of colors and patterns that your in-laws are bound to find appealing.
There's even a premium carrying bag included for portability and compact storage. Definitely, a gift that keeps on giving, all year long.

10. Handcrafted Moscow Mule Mugs 16 oz Gift Set
Are your in-law's liquor connoisseurs? Give them the gift of pure copper Moscow mule gift set.
This 100% copper set is perfect for the Moscow mule loving company. They are beautifully crafted and even come with a recipe that stays true to the 1940s Moscow mule.
Even if your in-laws are not necessarily liquor lovers, this fine set of mugs is great for any cold drink. It's also a splendid gift for your future in-laws.

Gift your inlaws a durable and comfortable NECTAR Sleep mattress to sleep on. It stays cool, has no concerns about off-gassing, and doesn't overheat like most memory foam mattresses.
Also, NECTAR mattresses come with a 365-night home trial, so if your inlaws don't like it, they easily return it.
We use the NECTAR Sleep mattress and love it! So much so we have decided to never go back to traditional mattresses.
Click here to buy a NECTAR Mattress for your inlaws.
Do your mother and father-in-law like to snuggle by the campfire? If so, this Loveseat chair makes the perfect gift! It's thoughtful, unique, and adventurous.
The chair comes with a convenient Roll-Tote carry bag that doubles as a tote for camping gear or firewood.
You'll not only be giving the gift of a loveseat chair but a versatile bag. As far as gifts go, that's a double whammy!
13. Personalized Key Holder, Key Hanger
This personalized wall hanger for keys is a perfect addition to any home, help your in-laws keep their keys where they'll never forget them in one convenient location.
Personalize it with the family name for an extra special touch.

14. Totally Bamboo State Cutting & Serving Board
If you're looking for a unique gift that is sure to please your inlaws, check out this bamboo cutting board you can have it cut in the shape of any State you choose.
Your inlaws may have moved out of their home state or lived there all their lives, so give them the gift of seeing their beloved State in the heart of their home every day.
15. Quizzes for Couples: Fun Questions to Complete Together and Strengthen Your Relationship
For the inlaws who have everything, gift them this fun activity book for couples. It will put a smile on their face, make them laugh, and bring them closer.
Plus, it's something they can complete together on their next date night.

16. Bushnell Falcon 7×35 Binoculars with Case
Give your nature loving in-laws these beautiful binoculars for all their bird watching or even hunting needs.
What couple wouldn't love taking a walk through a park, around a lake, or in the tree stand so they can check out the beautiful wildlife and scenery close up with high powered binoculars?

Send your in-laws on all expenses paid date night out to dinner with an Applebee's gift card.
It's a gift they are guaranteed to appreciate no matter what their tastes.
18. Wine Decanter
An alcohol decanter makes the perfect gift for any wine loving in-law.
Your extended family member will love the globe shape and design of this decanter that features an antique ship glass on the inside!
Need a gift that's also a conversation starter with your new relative-in-law? This is it! Spend hours sipping on your favorite spirit and admiring the artisanship of the hand-blown glass and custom wooden base.
You'll make a huge impression on your in-laws when they unwrap this unique decanter.
19. Weekly Meal Planner: A 52-Week Menu Planner With Shopping List
Does your mother-in-law and/or father-in-law love meal planning?
If yes, then pair this easy to use weekly meal planner with the blank recipe book below (next gift on this list) to make a lovely gift set.
20. Mama Bear Kusi's Blank Recipe Book: A Journal with Templates to Write and Organize All Your Favorite Recipes
If your in-laws love to collect or make their own recipes, pair Mama Bear Kusi's Blank Recipe Book, with the meal planner above to make a lovely cooking gift set.
Your in-laws can easily use this blank recipe book to record all their favorite and treasured recipes.
21. Wieco Art – Seaview Modern Seascape Giclee Canvas Prints
Another beach lovers list item, this set-of-four canvas wall art paints a vivid picture of ocean waves, beachwood, and boats.
Your in-laws will enjoy hanging this beachy art anywhere inside their home. This high-resolution photo print is stretched across the canvas and comes complete with hooks to hang them.
22. Metro 2 Bottle Tote in Grey and Green
Give your wine loving in-laws the ability to carry their favorite bottles of wine anywhere.
Perfect for picnics or bring your own beverage holiday parties, they will love the convenience of always having a bottle at ready, complete with their own wine glasses. Just add wine!

Are you searching for a gift for the couple who love adventure?
Perhaps your mother and father-in-law like to go boating. This 2-person inflatable kayak makes the perfect gift.
You are guaranteed to give a gift that nobody else will think of when you present this stable, comfortable, and unique kayak.
It'll be quite the experience watching your in-laws unwrap this one-of-a-kind gift that literally shouts how much you have been paying attention to their hobbies and interests.
If your in-laws have everything, get them a movie card so they can go see the latest show without spending a dime.
If your in-laws enjoy seeing a show every now and then, but it's really not in the budget. They are sure to appreciate the thought of a relaxing time at the movies – all expenses paid.

25. Slate Cheese Board Set w/Cutlery Set
Looking for a classy gift to give to your in-laws?
This organic bamboo slate cheese board with a slide-out drawer is the ticket. It's attractive and elegant design makes it the perfect place to display a spread of meats, crackers, and cheeses.
There's more! A hidden drawer seamlessly pulls out from the cheeseboard and features slotted compartments for utensils and spreaders.
You'll be praised for giving the gift of an all-natural, eco-friendly cheese board set. No doubt this unique cheese board would pair wonderfully with a bottle of wine!
26. Holland House Cooking Wine
Speaking of adding wine, if your in-laws love cooking with wine, this is the perfect gift for them to explore new flavors.
Help your in-laws expand their wine cooking palette and discover a new favorite winery with these four new wines.
27. Sleeping Double Sleeping Bag for 2
Warm, cozy, and snug, this sleeping bag for 2 is the perfect gift for the married couple who do everything together.
Whether it be for your mother-in-law, father-in-law, or both, this double sleeping bag is unique and thoughtful. The material is super soft and comfortable, while the bag itself is spacious.
When the climate conditions are cold, the lucky couple is bound to stay toasty the entire night through in this perfect-for-camping sleeping bag.
28. Runamok Maple Best Sellers Gift Box
Who doesn't love fresh natural maple syrup?
Add a sweet touch with this fresh maple syrup. It's sure to please your in-laws with its rich flavor. Its many health benefits are a bonus.
Plus, it can be used as a natural sweetener instead of sugar in most cooking and baking recipes as a healthier alternative.
29. Electric Wine Opener with Charger
What says "romance" better than wine?
Give that special couple in your life a complete electric wine opener gift kit that includes everything they would need to pop some bottles.
They'll love the elegant design, functionality, and appeal of the gift. They can open up to 80 bottles of wine in one full charge, which makes this item the perfect housewarming gift.
Your in-laws will know just how much you care when you give them this charming and unique wine opening accessory kit.
30. Creative Haven Owls Coloring Book
It's been said that coloring as adults actually keeps our minds sharp and even fights dementia.
Give the unexpected and unleash your in-law's inner child with this adult coloring book. Don't forget the markers too.
31. Do it yourself: Family birthday calendar
Help your in-laws keep their growing families' birthdays straight. Get a piece of barn wood, or really any finished wood would work, paint on the family name.
Drill twelve holes along the bottom of the board. Use wire to attach wine corks, bottle caps or even engraved dog tags.
Start with the month at the top, then add a tag for each member of the family with their date hanging down from the sign.
32. Do it yourself: Family photo board
Take a piece of wood, it can be barn wood, a quarter-inch stump "shaving", or even any finished 6-12 inch wide piece of wood.
Using mod podge you can impose favorite family pictures in a collage on the board.
Get some wood letters and paint them any color. Spell out love or family down the board through the pictures to create a nice wall hanging.

Best 18 gifts for Mother in Law
Below are great mother-in-law gifts she will love.
1. Wife Mom Boss Shirt Mothers Day Gift Mommy Mama Momma Tee
Let your mother in law know that "she is the boss" with this funny Wife Mom Boss t-shirt for moms.
This shirt will show her much you appreciate her being the wife of your father in law, mom to your husband or wife, and the boss.
To get this shirt in multiple colors, sweatshirt, or long sleeve, just click on its company/brand name.
2. Tree of life pendant Amethyst Rose Crystal Necklace
What better way to show your appreciation for the woman who gave life to the love of your life, than a beautiful pendant depicting the tree of life?
3. Super Soft Luxurious Classic Cashmere Feel Winter Scarf
A chunky scarf to accessorize during the colder months will be a stylish addition to your mother in law's wardrobe.
Help your mother in law stay warm with this gorgeous soft cashmere scarf.
4. Highly Polished Sterling Silver Filigree Peacock Dangle Earrings
Simple and pretty, these earrings will lend a touch of class to any outfit.
Your mother in law is sure to love the beautiful elegant design.
5. There's no better friend than a mother-in-law
Remind your mother-in-law how important your relationship is to you with a beautiful hand painted a sign.
It will tell her every day how much you appreciate her presence in your life.
6. Musical Snow Globe – Adorable Penguins
There is something whimsical about snow globes.
Take your mother in law back to when she was a child with this beautiful musical snow globe.

Treat your mother in law to all expenses paid day at the spa.
With a spa finder card, she can choose her favorite spa without you having to ask and give away the surprise.
Click here to buy her gift card
8. Clay In Motion Handmade Ceramic Mug
Perfect for the tea or coffee drinking mother in law.
Let her enjoy her beverage of choice in style with these beautiful hand-crafted ceramic mugs.
9. Qianse "Glass Slipper" 7 Inches Bangle Bracelet Made with Blue SWAROVSKI Crystal

Add this beautiful bracelet to your mother in laws jewelry box.
With its gorgeous blue crystal, it's sure to be admired and loved dearly.
10. Numi Organic Tea Moroccan Mint
Let your mother in law relax with a mug of Moroccan mint tea. Perfect for the tea connoisseur in your life.
Mint is a pretty universally loved tea, so it's pretty safe to choose even if you don't know her exact palette.
11. Tea Forté Loose Tea Starter Set
Has your mother in expressed an interest in trying loose tea?
This is a perfect starter kit for the beginner tea drinker. Open your mother in law up to the experience of the rich flavors that loose leaf tea has to offer.
12. Personalized Engraved Casserole Dish
Perfect for taking to potlucks or bringing meals to sick friends this engraved dish guarantees to always be returned when it's engraved personally for that special lady in your life.
13. Numi Organic Tea Flowering Gift Set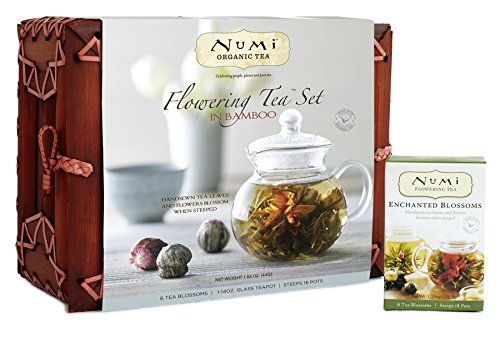 Introduce your mother in law to the rich flavors of flowering tea with this beautiful glass and bamboo tea set.

14. Le Creuset Stoneware Honeypot
This charming honeypot is a sweet gift for your wonderful mother in law.
Made of stone, it won't chip or crack easily. The honeypot also comes complete with a honey dipper and lid for no messes and easy use.
15. Cedar House Keepsakes Wedding Thank You
To say thank you for all that she did to make your special day run smoothly, give your mother-in-law this handmade print.
She will be glad to welcome a wonderful, thankful daughter-in-law like you into the family.
Tell your mother in law how much you love her with personalized mason jar glasses.
You can personalize it with your wedding date as a reminder of when you officially became a family.
17. Do it yourself gift: Slipper spa day kit
Purchase a pair of comfy slippers and stuff them full of all the treats your mother in law would need for an at-home spa day.
Bath salts, face masks, foot and hand masks etc.
Go all out to help her pamper herself. If you really want to go all out add a gift certificate to her favorite spa for a facial or another favorite treat.
18. Do It yourself gift: Lush fizzy bath bombs
You can look up online how to make bath bombs, make six to twelve of them and wrap them in brightly colored foil wrappers.
Put them in an egg carton or a cute bag with a handwritten note telling your mother in law what they are.

Best 16 gifts for Father in Law
Below are great father-in-law gifts he will love.
1. Thank You for Helping Me Build My Life DIY Gift Engraved Wood Handle Hammer
This beautifully crafted hammer is the perfect way to show your father in law how much he means to you.
Whether he's a carpenter by trade or a back yard handy-man he's sure to appreciate the sentiment.
2. Bamboo Wooden Watch with Brown Cowhide Leather Strap
Your father in law is a man who has everything.
This watch is both unique and thoughtful. Help him stay on time with this gorgeous bamboo and leather watch.

3. Personalized Gifts Thank You for Helping Me Build My Life Coffee Mug with Hammer Handle
Make your father in law smile every morning with this cute coffee mug, thanking him for taking part in your life.
The cute hammer handle gives it that extra touch.
4. Callaway Men's Dawn Patrol Golf Glove
If your father in law loves to golf, here is a perfect addition to his game.
Perfect for any golfer, and sure to make him smile. Help your father in law swing a perfect game with this well-crafted glove.
5. Rapala 4″ Fish'n Fillet Knife / Single Stage Sharpener / Sheath
If your father in law likes to fish, he is certain to fall in love with this beautiful fillet knife complete with a sharpener and sheath to keep it sharp and ready to work.
Send your favorite fisherman out fully prepared to clean his catch.
Fishing relieves the stress of everyday life, keep his fishing trip even less stressful with this tackle box.
The fisherman in your life will love this convenient tackle box system.

7. Waiters Corkscrew by HiCoup
Please your wine-loving father in law with this professional grade corkscrew. Designed to cut foil as well as remove the cork in an easy to carry fold up tool.
Perfect for the man who likes to write his thoughts down. This hard covered notebook is convenient to carry and even has a strap to hold it closed or mark his page for easy access.
9. Set of 9 Grey Beverage Chilling Stones
Put whole new meaning to whiskey on the rocks with these great chilling stones. Allows your father in law to enjoy his favorite stout chilled but without diluting the quality of the spirit.
10. Oh! Nuts Holiday Freshly Roasted Gift Basket, Jumbo Tray
Help your father in law out with making some healthier snack choices this year with a Jumbo roasted nut basket.
He's sure to love the different varieties of nuts offered in this great gift basket.
11. Mr. Beer Premium Gold Edition Homebrewing Craft Beer Making Kit
Introduce your beer loving father in law to the craft of making beer with this great kit. He will love the opportunity to create his own flavors and styles of beers with this fun kit.
12. Kindle Paperwhite E-reader
Your father in law will love the convenience of the kindle e-reader.
From books to Ezines and newspapers online he can stay connected and on top of his reading where ever he goes with this easy to transport e-reader.

13. Amazon Echo
Your tech-savvy father in law will love the amazon echo.
Give him the ability to listen to music, podcasts or news stations just with his voice! No need to change a station just tell the echo what he wants to hear.
This stainless steel tie clip set is a charming gift for the future father-in-law.
If you're getting married, now is the perfect time to lock in the memories of this moment with this tie clip that both your father and father-in-law can cherish for years to come.
15. Do it yourself: Dads toolbox snack kit
Take a 6 pack box of his favorite beverage, cover the box and decorate it so it looks nice and put a little sign that says "dad's toolbox".
Put half of the 6 pack back in the box, then finish filling it with his favorite snacks. He will have his very own easy to carry snack basket filled with all his favorite treats.
16. Do it yourself: Light up a block for a favorite team
Purchase a glass block from a hardware store, paint the logo for his favorite college or NFL team, tractor, car, or animal on the block.
Once it's decorated how you want it run a strand of Christmas lights into the block. When it's plugged it will light up and create a unique gift for him to enjoy.
Final thoughts
No matter what your in-laws are into you're sure to find something on our list that they will love.
From tea and coffee to wine or beer, to nature and indoor lovers, even the hard to please mother-in-law or father-in-law will definitely love at least one (if not more!) of the gift ideas on this list.
Your turn
What is the best gift you have ever given to your in-laws?
Related:
Best Christmas Gifts for Married Couples
Best 13 Matching Hoodies for Couples
Best 94 Board, Card, and Dice Games for Couples
Best 69 Wedding Gifts for the Bride and Groom
Best Anniversary Gifts for Parents
Image via Annie Spratt