Are you looking for the best wedding gift ideas for couples, your friends, co-workers, or loved ones? Don't know what to get the bride and groom?
Wondering what would be a great and unique wedding gift to make the soon-to-be newlyweds special day even better?
As you already know, getting married is a special time in a couple's lives, and celebrating the occasion is important.
A great way to ensure that the newlyweds are off to a fabulous start is to give a wedding gift that they will get plenty of uses out of in the years to come!
Now, choose a section to pick your gift.
Best personalized, unique and thoughtful wedding gifts for Couples
Best wedding gifts for bride and groom (Includes inexpensive gifts for the kitchen, bedroom, and living room)
More great wedding gifts for the couple (Includes entertainment, outdoors, and electronic gifts)
Best wedding gifts for the bride
Best wedding gifts for the groom
Wedding gifts for their honeymoon
Popular wedding gift card and certificate ideas for newlyweds
Book presents the newlyweds will love to read
Best personalized, unique and thoughtful wedding gifts for couples
1. One of a kind family name sign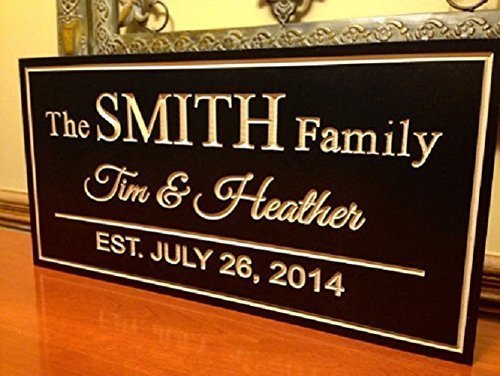 This is a beautiful piece of art that can be made for inside or outside and will be cherished forever as a reminder of when the couple started their family.

2. Love grows customized art print
What couple doesn't want their name carved in a tree? This print will customize the couple's name as if it was carved in a tree.
They are sure to love the sentiment of their love for each other to be forever there for all to see.
3. Monogram Personalized Engraved Cutting Board
Another beautiful piece of woodwork!
Every couple loves to see their name carved in wood, this cutting board can also serve as a wall hanging in the kitchen if they don't want to mess up the engraving.
4. Handmade Mr. Right and Mrs Always Right 15 oz. Laser Etched Stemless Wine Glass Set
This is a great set of wine glasses for that couple who have a great sense of humor!
Just remind them… when in doubt, refer to the wine glasses!
5. Personalized Mr and Mrs beach towels
Help the couple kick off that amazing beachfront honeymoon with these great beach towels.
These beach towels are cute and functional.
Any couple would love this print of a tree with two love birds on a branch.
Customize it with their name and wedding date and it is sure to be cherished forever.
7. Personalized monogrammed key holder
The happy couple is sure to love this wonderfully designed key holder.
You can have it customized to their taste and to match their décor. They'll love having a pretty and convenient place to hang their keys.

8. Cash
Newlyweds have a lot of expenses to pay for, and then there is the honeymoon.
When we got married, cash was one of the top gifts we put on our registry.
Cash can be a thoughtful gift for helping the couple get started on the right foot. The more the merrier. 🙂

Top 44 best wedding gifts for bride and groom (Includes inexpensive gifts)
Most of the gifts in this section are practical and useful items for their kitchen, bedroom, living room, and bathroom.
1. Chezmoi Collection White Goose Down Alternative Comforter
Help make a bedroom feel homey with the Chezmoi Collection White Goose Down Alternative Comforter!
Whether allergens prevent the couple from sleeping under a down comforter, or you are looking for a stylish alternative, this warm comforter will provide the perfect bedroom accessory to drift off to sleep in warmth and comfort.

2. Brita 10 Cup Everyday BPA Free Water Pitcher
Brita's BPA free water pitcher is a great first water pitcher for the couple!
The newlyweds will have fresh, clean water to drink, free of chemicals present in some tap water.  As a bonus, the pitcher also comes with one filter for easy setup.

3. Crock-Pot SCCPVL600S Cook' N Carry 6-Quart Oval Manual Portable Slow Cooker
This slow cooker is portable, making it great to take to parties.
Cooking can be daunting for newlyweds, but this Crock-Pot takes the guesswork out of making delicious home-cooked meals.
It's a great investment for the working couple!
4. Oneida Mooncrest 45-Piece Flatware Set
Flatware is an important accessory in creating a home.
Whether the couple is planning on entertaining or just eating meals at home together, this stunning flatware set from Oneida is a must-have.
5. Totally Bamboo Large Expandable Cutlery Tray & Drawer Organizer
Be sure to provide the newlyweds with a great place to store their new flatware set.
This organizer has eight compartments and is made from durable bamboo that will look stunning in a kitchen drawer or counter.
6. Pyrex 3-Piece Glass Measuring Cup Set
Pyrex 3-Piece Glass Measuring Cups are a great way to ensure that ingredients are measured correctly, every time.
Since the cups are made by Pyrex, you know you can trust them, and the heavy-duty glass will not break or creak from regular use.
This allows peace of mind to the newlyweds about having to replace the cups.
7. Lodge L8SK3 Pre-Seasoned Cast-Iron Skillet
A pre-seasoned cast iron skillet is a wonderful addition to a newly married couple's kitchen. It is a fuss-free piece of cookware that will last for years.
Since the skillet can be used on the stovetop, in the oven, or over a campfire, it's a versatile piece of kitchen equipment that you will return to over and over.
8. Premium Stainless Steel Salt and Pepper Grinder Set
A stainless steel salt and pepper grinder set is a gift that will be used on a daily basis! For those who enjoy cooking, seasoning has never been easier!
The glass salt and pepper grinders have a ceramic rotor and are adjustable, allowing you to control how coarse or fine the seasoning is ground.
The durable construction will allow the grinders to last for years.
9. Aroma Housewares 20 Cup Cooked (10 Cup Uncooked) Digital Rice Cooker, Slow Cooker, Food Steamer
This rice cooker can double as a slow cooker and a food steamer, and the high capacity allows all kinds of foods to be cooked.
Great for parties or slow cooking meals while at work, this cooker is digital and programmable. It's a perfect kitchen solution for busy newlyweds!
10. Hamilton Beach 10-Cup Food Processor, with Bowl Scraper
Food processors take the work out of cooking and baking. This time-saving appliance will slice, chop, and puree fruits, vegetables, and nuts in a heartbeat.
It's a great investment for newlyweds who enjoy cooking or who are looking to help save time in the kitchen.
11. RSVP White Marble Mortar and Pestle
For home chefs who like to grind fresh herbs and spices, the RSVP White Marble Mortar and Pestle is the perfect gift.
Made from a piece of pure marble, it is heavy duty and sure to last for years. It also looks stunning on the countertop!
12. KitchenAid KSM150PSER Artisan Tilt-Head Stand Mixer with Pouring Shield
A kitchen must-have for home chefs, the Kitchen Aid 5-Quart mixer is unbeatable value with a trusted name.
Perfect for cooking and baking, the sky is the limit with this mixer.
It looks beautiful on the countertop and has plenty of attachments to purchase separately, and the bright red color is sure to impress.
13. Cook N Home 12-Piece Stainless Steel Set
Cookware is an ideal gift for newlyweds!
Whether they plan on cooking together or just want to have nice quiet meals at home, this stylish stainless steel set is easy to clean and use.
In addition, it's durable and will withstand plenty of years' worth of wear.
14. Hoover FH50150 Carpet Basics Power Scrub Deluxe Carpet Cleaner
A perfect gift for newlyweds who are getting their own home, this Hoover carpet cleaner delivers clean floors with a name to be trusted.
Easy to use and lightweight, this is the perfect tool for cleaning carpets and upholstery.
15. Luxor Linens Egyptian Cotton Terry Robes with Couple's Embroidery
Help the new couple celebrate their special married status with matching "Bride" and "Groom" robes.
The soft white cotton makes them great for a day of lounging or heading to the spa, and the embroidery is a cute touch.
16. #1 Best ORGANIC Bamboo Wood Cutting & Kitchen Chopping Board with Groove
This spacious cutting board makes a great gift for the home chef. It is incredibly spacious and looks wonderful in the kitchen!
There is plenty of space for all of your food preparation needs, and the grooves prevent ingredients from falling off the board.

17. Superior 900 Gram 100% Premium Long-Staple Combed Cotton 6-Piece Towel Set
A lovely six-piece towel set, these towels are made of quality cotton and are a great addition to a newly married couple's bathroom!
Two face towels, two hand towels, and two bath towels are in the set and are easy to care for.
18. Glasslock 18-Piece Assorted Oven Safe Container Set
This glass container set is great for newlyweds – many times recipes call for multiple servings, and this is the perfect storage solution for leftovers.
Just store in the durable, oven-safe glass containers, pop in the fridge, and you're good to go! Just remove from the fridge, heat, and eat.
They are also dishwasher safe for easy cleanup.

19. Chicago Cutlery 1119644 Fusion Forged 18-Piece Knife Block Set
Chicago Cutlery, a top name brand for kitchen knives, offers this valuable set that is perfect for new chefs.
The heavy duty, stainless steel knife set is all you need to get cooking and will last for many years.
20. Deco Brothers Pan Organizer Rack
For those who love to cook and are low on storage space, this pan organizer rack is a gift that will be highly appreciated!
It fits perfectly on a countertop and provides extra space for cooking and storing other items. The bronze finish is stylish and looks great with any decor.
21. 1Easylife 18/8 Stainless Steel Measuring Spoons
These stylish stainless steel measuring spoons are perfect for measuring out liquid and solid ingredients. Great for new chefs, these spoons prevent cooking accidents by allowing you to measure the perfect amount every time.
Great for new chefs, these spoons prevent cooking accidents by allowing you to measure the perfect amount every time.
22. Presto 03510 FlipSide Belgian Waffle Maker
Make weekend breakfasts fun with this waffle maker!
This Presto Belgian Waffle maker will be treasured for years.
Easy to store, this waffle maker has a digital countdown timer that helps you make the best waffle, every time.
23. KONA French Press Coffee Tea & Espresso Maker
For the couple who enjoy making delicious, aromatic coffee and tea on a daily basis, this French Press is a staple.
Easy to use and complete with a comfortable handle, clean up is a breeze and experimenting on different flavors is a must.
24. Cuisinart CTG-00-SMB Stainless Steel Mixing Bowls with Lids
For the budding chef, mixing bowls are a must.
Whether the newly married couples are baking delicious treats or putting together a meal, it will definitely be useful.
These stainless steel bowls, which are dishwasher safe, also come complete with lids for storage.
25. Wilton 570-1121 Easy Flex 3-Piece Silicone Spatula Set
Spatulas are a versatile cooking and baking utensil. These are flexible and perfect for mixing, cooking, and spreading frosting on cakes.
The blue color will look lovely with any kitchen decor and will be used for many years.
26. Lodge Color EC6D33 Enameled Cast Iron Dutch Oven
This 6 -Quart Dutch Oven is great for slow simmering soups, braises, and roasts.
The bride and groom can use it on the stove, in the oven, or even over a campfire, allowing them to make scrumptious meals for years.

27. Bellemain Micro-perforated Stainless Steel 5-quart Colander
A great colander is difficult to find, so start the newly married couple out right with this dishwasher safe, stainless steel colander!
Perfect for rice and spaghetti, the holes are small enough to drain water, yet keep the food from slipping out!

28. OXO Good Grips Butter Dish
A simple, yet elegant butter dish that will look great on the kitchen table or in the refrigerator.
Non-slip grips keep the butter dish from sliding, and the grooves allow you to perfectly measure out how much butter you need.
29. Corelle Square 16-Piece Dinnerware Set
A stunning dining set makes for a pretty table – and new dinnerware is something that everyone appreciates.
The break and scratch resistant dinnerware comes in a pretty design and looks great on any table!

30. Prodyne Fruit Infusion Flavor Pitcher
If the bride and groom love flavored water or creating their own drink creations, this is the perfect gift.
The plastic pitcher allows them to store fruits and other flavor enhancers inside the hollow rod in the center, creating a delicious beverage.
31. Silpat AE420295-07 Premium Non-Stick Silicone Baking Mat
Any baker would love to have this Silpat baking mats. The silicone mats fit a half sheet pan easily and are great for baking cookies, biscuits, and other delicious food in the oven.
The best part? They are non-stick, eliminating the need for foil and cooking spray.
32. KitchenAid KBLR04NSBY Nesting Ceramic 4-Piece Bakeware Set
For those just getting started in the kitchen to seasoned professionals, you can never have enough bakeware sets.
These ceramic nesting bakers are oven, freezer, microwave, and dishwasher safe, and look beautiful on the table.
33. Oh, Susannah Mr. Mrs. Couples Pillowcases
Make their wedding night and all of their nights together sweet! "Mr." and "Mrs." pillow cases are a thoughtful, romantic gift.
The soft and durable fabric resist's fading for up to fifty washes!
34. Imprint® Cumulus9 Kitchen Mat Nantucket Series
This wonderful mat allows you to feel like you're walking on air.
Just place it near the stove, sink, washing machine, or wherever you will be standing for long periods, and easily prevent back, leg, and feet fatigue. Perfect for new couples getting started in the kitchen.
35. Fox Run Marble Rolling Pin with Wood Base
A great rolling pin makes a perfect gift, especially to those who enjoy baking and cooking.
The rolling pin is marble, making it ideal for rolling out pie crusts and pizza dough. Every kitchen should have a quality rolling pin.
36. Seville Classics Water Hyacinth Oval Double Hamper, Hand-Woven
Lend a helping hand with organizing the laundry room with this hand-woven double hamper!
Helpful when it comes to sorting lights and darks, or delicates from regular laundry, it proves itself to be a valuable tool for the new couple.

37. InterDesign Leaves Fabric Shower Curtain
Fabric shower curtains are a wonderful way to add color and decor to your bathroom, and what better way than with a simple leaf design?
A fabric shower curtain will last for a long time when a liner is applied behind it, and the pattern is simply gorgeous and sure to brighten up any home.

38. Safavieh California Shag Collection SG151-1313 Beige Area Rug
If the new couple lives in a home with hardwood or laminate flooring, help spruce up the room and add homey touches by picking up this beige area rug.
The soft carpeting will make any room feel warm and cozy.

The Ninja Master Prep is a great time saver in the kitchen and is great for busy couples.
The 2 cup food processor and blender can handle many kitchen jobs all in one appliance – saving on time and on counter space.
Napkins are needed for everyday dinner. Gift the soon to be married couple this set of 12 napkins that are durable and can hold well.
Its also available in different colors.
41. Hario VKB-120HSVV60 Buono Pouring Kettle
This stainless steel kettle has a slim spout, making it ideal for small teacups or coffee cups.
In addition, the stainless steel design and grip handle are not only nice in appearance but functionality as well.
Great wedding gifts for the couple – outdoors, lawn, patio,  entertainment, and electronic gifts.
Most of the wedding gifts in this section are practical and useful items for outdoors, living room, entertainment, and electronic gifts.
This spacious tent will encourage the new couple to get out and enjoy each other's company, and the great outdoors.
The dome design allows for easy setup and take-down.
2. Samsung UN40J6200 40-Inch 1080p Smart LED TV
Help the couple to furnish their home with a new LED TV from Samsung. This TV has smart functionality and is a stylish piece of technology!
3. Prepara iPrep Foldable/Adjustable e-reader, phone, and tablet stand for iPads, iPad Air, iPad mini, iPhone, Surface, Kindle Fire, Nook, Samsung.
Perfect for cooking, reading, or on the go adventures! This stand is completely foldable for storage and adjusts to fit a variety of popular devices.
Choose from four different angles, and the stylus helps to stay clear of messes while cooking!
4. SONOS PLAY:1 Compact Smart Speaker for Streaming Music
Music lovers will appreciate this gift.
The small speakers are great for streaming from your favorite music services, including Amazon Music, all from one app. It's easy to use and looks great in the home.

5. Lakeland Mills 4-Foot Cedar Log Love Seat
This beautiful loveseat is wonderful for their front or back porch. Made from white cedar, which is both insect and weather repellent, it is sure to be a treasured furniture item.

6. Nest Learning Thermostat, 3rd Generation, Works with Alexa
Give the newly married couple peace of mind with this learning thermostat from the popular Nest brand. It also works with Amazon Alexa to provide voice control technology.

7. Malden Mr. & Mrs. Die Cast Metal Waves Frame
A stunning photo frame for the couple's wedding photo will allow them to remember the day forever. The metal frame, with dye-casted designs and carefully engraved script is sure to wow the couple.
8. Malden Mr. & Mrs. Medal Wedding Frame
This beautiful frame, with a Mrs. on one side and a Mr. on the other, has a heart opening for a photograph of the happy couple.

A Kindle Paperwhite E-Reader allows couples to take their favorite books anywhere! From camping to vacation to reading at home by the fire, they will have their favorite books to share.
10. Lifetime 90421 Pickleball, Badminton, & Quickstart Tennis Net Set
This great all-in-one set contains everything the newly married couple needs to stay active. Pickleball, Badminton, and Quickstart Tennis are included. Great for camping and backyard activities.
12. Scrabble Deluxe Edition Game
This Deluxe Edition of Scrabble features recessed game spaces, curved tile racks, rubber wheels for easy turning the game board, and storage spaces for easy cleanup. A great conversation game.
14. Sex Stack
A great game for the newly married couple, Sex Stack will be an exciting game for the couple.
Similar to Jenga, Sex Stack lists sexual acts on the wooden pieces, complete with cards to accompany the pieces.
Click here to discover more sex games for couples.
Best wedding gifts for the Bride
1. Mrs, Hortense B. Hewitt Wedding Accessories Travel Bag
This is a good quality travel bag designed to make travel with her wedding accessories a little easier.
Any bride would love to have this bag to keep track of all the little details that will go into making her wedding day "look" a success!
2. Canvas Tote Bag with Special Saying
The biggest adventure of a bride's life is the day she gets married and starts on her own family. What bride wouldn't love to have an adorable tote bag to take along on her newest adventure?
Every bride wants to look her best for her groom. Sephora offers a very wide range of beauty products. Your bride is sure to find something that makes her feel amazing for her groom!

4. Ibagbar Small Canvas Shoulder, Messenger, Work Bag
Any woman can appreciate a well-made shoulder bag! This bag has plenty of pockets and room to carry whatever she may need for her big day!

5. Bluetime Women's Lace Babydoll Sleepwear Halter
What kind of wedding night would it be without a little sassy fun?
Every bride wants to feel her most beautiful and sexy on her wedding night. This babydoll will be the perfect accessory to look her best on what she knows will be the best night of her life!
6. Personalized wedding hanger with date
These hangers are truly a work of art! They are a perfect for keeping bridesmaid dresses separate.
But best of all it will peroxide the bride with a hanger she can hang her dress on long after the festivities of the day are over. It will hold her most treasured dress for the rest of her life.
7. A Gift certificate from My Dreamlines
When the bride redeems this gift after the wedding, she will receive a personalized sketch of her wedding dress.
8. Aroma essential oil diffuser
Every bride has some stress about her big day. An essential oil diffuser will help ease some of that stress. The bride in your life is sure to appreciate the thought of helping her relax!
Best wedding gifts for the Groom
1. Black and Decker Lithium-Ion Drill and Project Kit
Help the groom get started on that honey-do list in style with this great set! The bride will forever be grateful that he will have the right tool to get any job done!
2. 18 Piece Stainless Steel BBQ Grill Tool
This is the king of all BBQ grilling sets! Every new groom should feel like he is master of his patio grill! This set will be the first step toward his grill master goals!
3. Samsonite Colombian Leather Flap-Over Laptop Messenger Bag
Every hardworking groom deserves a luxurious bag to put his laptop in at the end of the day! He is sure to love this leather laptop bag!
4. Personalized Wine and Beer Bottle Opener
Any groom would love this customizable beer and wine bottle opener. It will meet all of his bottle opening needs. Plus you can get it engraved to make it particularly special to him!
5. Vetelli Leather Toiletry Bag for Men
Send the groom off on his honeymoon with all his toiletry needs in one convenient and stylish bag! Any groom will appreciate having everything they need in convenient travel size ready to grab and go!

6. Personalized 6 Piece Custom Engraved Flask
This set is perfect for the groom to share a last single shot with his groomsmen before heading down the aisle. He can keep it filled during the reception and on to the honeymoon if he chooses.No matter when he uses it the groom is sure to love it!
Best wedding gifts for the Honeymoon
Note: You can use these gifts to create a wedding or honeymoon gifts basket for the bride and groom.
1. Lillian Rose Mr. and Mrs. Passport Covers
Help the happy couple start the honeymoon off right and keep track of those ever so valuable passport books! They will love these great Mr and Mrs passport covers!
2. Olympia Luggage 22″ 8 Pocket Rolling Duffel Bag
Send them off with this great bag. It's the perfect carry-on size, well designed and has lots of pockets to put their honeymoon treasures in for the ride home. Every couple needs a perfect weekend getaway bag.
3. Aeris Memory Foam Travel Neck Pillow with Sleep Mask, Earplugs, Carry Bag, Adjustable Toggles and Velour Cover
If the couple in your life is about to get on a plane to head to their honeymoon oasis, THIS is the gift to get them.
It's a great neck pillow that comes with earplugs and an eye mask so they can get off their long flight rested and ready to take on the adventure of their honeymoon!

4. Hubby & Wifey – Matching Couple Shirts
No couple should leave on their honeymoon without a set of matching newly wed t-shirts.
These Hubby Wifey shirts are cute and will provide a bit of fun to their honeymoon pictures as they wander around some exotic location.
5. Bride and Groom Embroidered Wedding Caps Hat Set
These cute caps are perfect for a happy couple heading off on their honeymoon. If they get separated in a busy airport terminal they can just look for each other's hats!

No one wants to deal with watching the luggage go around forever trying to pick out what bag is theirs.
Send the couple off with these great luggage tags that are easy to spot. They will be happy to save time at the baggage claim!

7. Just Married Flip Flops – Stamp / Imprint on Beach Sand
Follow the footsteps…. Or maybe don't!! Send your fun loving couple off with a set of flip flops that will let the world know that they want a little privacy in that beach cove.

8. Non-GMO and Natural Healthy Snacks Care Package
Finding delicious healthy snacks can be difficult!
Newly married couples might be too busy to find time to get healthy snacks, so this is the perfect solution. 27 packages of GMO-free and natural snacks in one package.
9. Malirona Large Canvas Beach Bag
If the bride and groom will be spending some of their honeymoon days at the beach, then this beach bag is another thoughtful gift to give.
Also, it's available in different designs.
10. LogoLenses Wedding Classic Sunglasses
Add these fun sunglasses to the bride and grooms presents. They can wear them while taking pictures or enjoying their honeymoon, especially if they are on the beach.
Popular wedding gift card and certificate ideas for newlyweds.
1. Hitch Switch Name Change Gift Card
Hitch Switch is great for newly married couples who wish to go through the name change process with ease.
It is time saving and allows you to take care of the whole name changing process at home.
Click here to buy it from Hitch Switch
2. A Gift certificate for a personalized sketch of her wedding dress and his suit
As a wedding guest, get a gift certificate from My Dreamlines that the newlyweds can use to have a sketch of their wedding attire made for them.
It's definitely a unique and personalized gift they will love. You can also buy it as a wedding gift for the bride too.
Click here to buy a gift certificate from My Dreamlines now
3. Southwest Airlines Gift Card
For the couple who love to go on vacation, a Southwest Airlines Gift Card can be purchased in several denominations, have no expiration date or fees, and will allow the couple to fly to 85+ destinations.
4. Whole Foods Market Gift Card
Help the newly married couple stock up on healthy groceries. Available in several denominations, this gift card will be appreciated when it comes time to pick up ingredients to cook.
5. Hotels.com Gift Card
Hotels.com allows couples to book hotels at over 150,000 locations around the world!
Give the new married couple a chance to get away for a few days at a location of their choice.
6. Regal Entertainment Gift Cards
Remind the couple that even though they are married, date night is still important! A sweet gift box contains a $50 Regal Entertainment gift card – perfect for a night at the local Regal Entertainment Cinema.

Great for a relaxing weekend morning, a Starbucks Gift Card gives newlyweds the chance to order a few drinks, sit down together, and enjoy each other's company!
8. Other gift cards you can check out are:
Book presents the newlyweds will love to read
1. First Year of Marriage: The Newlywed's Guide to Building a Strong Foundation and Adjusting to Married Life
This book is an ideal read for newlyweds because we share great information about how to build a great marriage foundation.
We cover many topics, such as how to communicate effectively with each other,  selfishness, dealing with arguments, finances, sex, and more. It's a must-read for newlyweds.

2. Newlywed Cookbook: Fresh Ideas & Modern Recipes for Cooking with & for Each Other
This cookbook features over 130 recipes, designed to serve two people. It is a great gift to encourage the couple to spend time together in the kitchen.
3. Questions for Couples: 469 Thought-Provoking Conversation Starters for Connecting, Building Trust, and Rekindling Intimacy
As you already know, to have better conversations, you need great questions.
This book of questions will help the soon to be newlyweds have meaningful, fun, and engaging conversations.

A beautiful scrapbook that the newlyweds can fill together with special memories of their wedding day.
Creative and Do It Yourself (DIY) wedding gifts.
Want to make something special yourself? Here are 5 DIY wedding gifts ideas you can make for the bride and groom.
1. "I love you because", message board.
Get a picture frame, cut a piece of pretty of pretty paper to fit the frame and print the words "I love you because…." in a pretty script.
Place it in the frame. The couple can write notes on the glass of the frame with dry erase markers.
2. Clear glass Christmas bulb.
Cut lines of the wedding invitation and place them in a clear glass Christmas bulb.
Arrange the date and the couple's names as well as other special lines so you can see them. Cut the stamp off the envelope and attach it to the bulb.
3. Wine labels.
Create wine labels that cover a list of firsts as a married couple, the first night, first fight, first holidays, etc.
Write a special note to the couple for each event on the label. Attach the labels to several of their favorite bottles of wine.
4. Shadow box.
Create a shadow box the couple can put special items from their wedding into preserve such as the bouquet, garter belts, and cufflinks.
5. Burlap picture frame.
Print the first initial of the newly married couple's last name, their full last name, their first names and /or the date of their wedding on a piece of burlap.
Cut the burlap to fit and place it in a picture frame.
Final thoughts.
Buying the perfect wedding gift for the newly married couple in your life can seem daunting, but there are plenty of gifts from this list that would be appreciated.
Whether the bride and groom have a wedding shower or you plan on giving them a gift after the ceremony, giving them a great wedding gift should be exciting.
From giving the couple cash or a gift card to choosing a picture frame or journal for them to spend time on together, there are a variety of gifts that are sure to be a hit.
If you know a couple who loves adventure, try giving them a tent or a Stand Up Paddleboard package. If the couple prefers a nice cozy night a home, give them a soft blanket and a Starbucks Gift Card.
There are so many options from this wedding gift list that will suit every couple. Even if the couple is already living together, have everything, or you are looking for a gift under $50, $100 or $200.
So stop worrying about finding the best wedding gifts for the bride and groom. Buy or make one the gifts or DIY ideas above, wrap it, and present it to the soon-to-be newlyweds.
Your turn
What's the best wedding gift you have ever given to a newly married couple?
Image via Blickpixel
Related:
Best 25 Christmas Gifts for Newlyweds
Best 15 Matching Hoodies for Couples
35 Unique Valentines Day Gifts for Your Wife
29 Unique Valentines Day Gifts for Your Husband
Best 94 Board, Dice, and Card Games for Couples