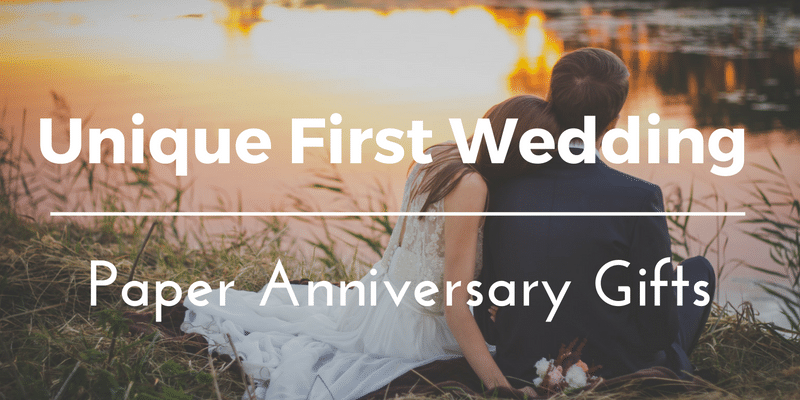 A little while before you both said "I do," you made a list that said, "we want." It's called a wedding registry, and it's brilliant.
But now a year has passed, and there's no more list! Don't worry. The traditional first wedding anniversary gift is paper, and the modern gift is a clock.
Whether you are looking for a traditional or modern gift for your husband, wife, or to celebrate your first wedding anniversary together, you will love the gifts below.
It's our list of unique first wedding anniversary gifts ideas. The gifts are also perfect for everyone looking for first anniversary gift ideas for couples.
Now, choose a section to start with:
Unique first wedding anniversary gifts for either husband, wife or both
First wedding anniversary gifts for your wife
First wedding anniversary gifts for your husband
Creative DIY paper gifts ideas for first wedding anniversary
Romantic and inexpensive ideas to celebrate your first wedding anniversary together
Unique first wedding anniversary gifts for either husband, wife, or both.
1. Quizzes for Couples: Fun Questions to Complete Together and Strengthen Your Relationship
For the newlyweds' first wedding anniversary, gift them this fun Quizzes for Couples book.
It's an activity book they can complete together to discover new things about each other, connect, and strengthen their marriage.

A unique spin on the traditional paper first anniversary gift.
Written "I Love You" all over it (literally) these beautiful origami flowers are a unique and precious anniversary gift for the romantic in your life.
These ornate flowers will be proudly displayed and never wilt or die. This is one bouquet that will last!

3. Newlyweds First Wedding Anniversary Gift for Him Her Couples T-Shirt
Let your spouse know you are looking forward to spending the rest of your life with him or her with this lovely tee shirt.
It will put a smile on their face because the shirt says, Married One Year and Looking Forward to Forever. Also, it's available in multiple colors.

4. 3D Unique Personalized Print
So cute and totally customizable to the couple.
You can choose the color scheme, the background words (like verses or special song lyrics), add your names or important dates to the dangling hearts, even the color of the twine is customizable!
What husband or wife wouldn't love this as an anniversary keepsake?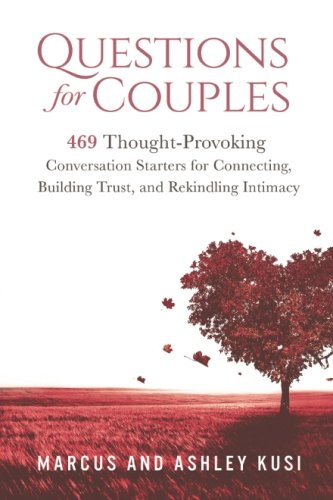 A unique idea for your paper anniversary, this book of 469 thought-provoking conversation starters will help you ask each other better questions so you can have great conversations.
Spend your paper anniversary flipping through the pages and learning more about who you each are and growing closer together while having some laughs.

6. 1st Anniversary Cotton Gift, Anniversary, Married for 365 days but, I've loved you since day 1
Rustic and unique, this cute little decorative pillow will make a pretty addition to the home of every newlywed on their first wedding anniversary.
The cream linen fabric will complement any décor, and the case comes with a perfectly fitting insert pillow.

This amazing monogram clock is classically beautiful.
And isn't it cool to have a clock on the wall that will not only tell the time but will also be a timeless reminder of how long your love has lasted?
Let's be frank, it's perfect for your clock anniversary gift.

8. Custom Wedding Couple Split 2 Heart Maps Art Print, UNFRAMED
Marriage is a journey of love, and this clever print depicts its beauty through a heart-shaped map.
The heart is made from two perfectly matching pieces, with both your name and your husband's or wife's name, and your wedding date printed below.
Choose from several types of maps and create a color scheme your spouse will love.

9. Our Love Story Journal: 138 Questions and Prompts for Couples to Complete Together
Capture your unique love story in this love story journal for couples.
It includes questions and prompts that will help you both to reminisce about your past; from dating to your engagement, wedding, and marriage.
More importantly, completing this cute journal is a fun activity you can do together.

10. Sex Checks: 60 Checks for Maintaining Balance in the Bedroom
These "checks" are a cute and playful idea for the newlyweds with a bold sense of humor and adventure!
After a year of marriage, you may need some new ideas for "balance in the bedroom," and this gift will provide just that.

11. Personalized You Are My Anchor Art Print, First Wedding Anniversary Paper Gift
For the couple who are stronger together, this print is a combination of art and poetry, expressing the importance of their reliance on each other.
And you can choose from a variety of colors to find the one that's just right for you and your husband/wife.

12. A hand-written romantic love letter
When we were newlyweds, we had very little extra money, so instead of buying things we couldn't afford, we wrote a love letter to each other as a gift.
Sometimes only a heartfelt letter can say just how you feel. It fits right in with the traditional paper theme for your first wedding anniversary.
Click here to learn how to write a romantic love letter.
13. MuralMax – Personalized Family Tree Branch
Two little lovebirds sitting in a tree… an expressive image that evokes feelings of warmth, safety, and commitment.
This lovely piece will bring a smile to your husband/wife's face for years to come. And it's available in lots of color combinations, so it will look great no matter their décor.

14. Strip or Tease – Adult Board Game For Couples
Most of the time, taking your clothes off is no big deal.
But this playful and exciting board game can teach both of you how to make stripping an art form. Not to mention, playing this game could be just a lot of fun.
If you want a different game, click here to see the best board and card games for couples.

15. "All of Me" First Anniversary or Wedding Gift – 3D Paper Tree & Hearts
John Legend's song "All of Me" is soulful, bursting with emotion and heart—just like your love.
This framed art features the words of the song, while the silhouetted couple, tree and red dangling heart pop out from the background.
Your husband/wife will love it.

16. Mr and Mrs est 2016 Wedding Sign
At once natural and sophisticated, this hanging art piece is simple for the uncomplicated couple – or at least for the newlywed couple with uncomplicated décor!
And it will remind your husband or wife of your special day in a sweet and subtle way.

17. Our Bucket List Adventures: A Journal for Couples
This is a fun bucket list journal for you and your spouse to create bucket list goals you want to experience together.
It has 115 bucket list ideas, an activity for couples to do, and journaling pages to record your bucket list adventures. Plus room to add a photo or scrapbook memorabilia.

18. Airline tickets
Are you willing to splurge big-time? You'll be surprised at the deals you can get on last-minute flights.
Pick a place you know your spouse would love to go for the weekend and book it. Take a second honeymoon or just a weekend trip.
Surprising your spouse with a trip for your first wedding anniversary will definitely be memorable.
19. Hotel room tickets
Whether you're going out of town or not, you'll be doing your spouse a favor by getting them out of the house for a night or two.
Clean sheets, fresh soap, and a room they don't have to clean up themselves: a total win. It also makes for a great excuse to stay in bed all day.
20. Conversation Starters for Husbands & Wives
In a world of fast-paced and no-frills communication, this set of deep questions can help you both set aside some time to connect.
Each card features a thought-provoking question and a quote to ponder. This is a fun way for you both to learn even more about one another.

21. Weekly Meal Planner: A 52-Week Menu Planner With Shopping List
Do you want to make a lovely paper year gift set your meal planning spouse or couple?
If yes, then pair this easy-to-use weekly meal planner with one of the paper gifts in this article to make a cute gift set.
Even better, add Mama Bear Kusi's Blank Recipe Book to your gift set.

22. Love Coupons
Love experience vouchers, redeemable whenever they choose. Your husband/wife will find this sweet gift so thoughtful whenever they need a time out from the crazy pace of the world.
There are seven vouchers to choose from, so this paper gift will last for a long time.

23. Word Search Puzzles for Couples: A Fun Relationship Themed Activity Book
Do you and your spouse love word search puzzles? If yes, then this activity book is one you will love to complete as a couple.
Even better, its relationship themed, so you can learn new things together while completing it.

24. First Anniversary Cottage Garden Italian Inspired Music Box Plays Unchained Melody
This charming little music box features a place to add one of your memorable pictures as a couple on the front, a space to store special treasures inside, and plays the romantic tune "Unchained Melody."
Your husband or wife will love seeing it on their coffee table or nightstand, and it will remind them of your first year together.

25. A gift certificate to their favorite shop
Pick up a gift certificate to the favorite shop they love to frequent. This gives them the ability to spend some money on themselves that they might not have usually.
Instead of searching for the perfect gift, let your husband or wife find exactly what they want for themself.
26. 1st Year Anniversary Gifts for Couple Cute Owl Couple Wedding Celebration Party Bathroom Decorations Shower Curtain
Every room in the home can be decorated to celebrate a year of marriage – even the bathroom!
Adorable owls, bright colors, and sweet sentiment are all over this first anniversary shower curtain. It's a great wedding anniversary gift idea for any husband or wife still giddy in love.

27. Cold Stone Creamery Gift Card
Treat yourselves to a visit to the ice cream shop with this gift card.
And while you are there, have some great conversations about your first year of marriage, the good, not-so-good, and hilarious moments.

For the stressed, and perhaps strung out spouse, these fun coloring books will help you to relax.
Filled with ornate patterns and designs, all of your focus will be on the coloring, rather than on the stress of the day. These fun and intricate designs are made for adults and are perfect for Christmas gifts.
Don't forget some colored pencils or gel pens.

29. Deluxe Scratch Off World Map
Such a unique and useful gift for the traveler in your life, this oversized scratch-off world map will leave you and your spouse inspired!
Scratch off each country or place you've been and write brief notes throughout of where you want to go next. Set your goals and plan your trips in a new way.

30. Our Gratitude Journal: 52 Weeks of Love, Mindfulness, and Appreciation for Couples
Another great gift to celebrate your paper year, while planning for your cotton anniversary is this weekly gratitude journal for couples.
Buy a copy and spend your first wedding anniversary evening sharing how grateful you are for each other. Then, commit to writing your appreciation for each other on a weekly basis until your second wedding anniversary.
As you can see, completing this activity together will provide you with so much to be thankful for, especially when you celebrate your second anniversary.

31. Two's Company Recycled Magazine Photo Frame
Good for the earth, and perfect for your home, this charming picture frame is made from recycled magazine clippings. A fun spin on the traditional paper anniversary present.
This industrial-style frame can hold your most cherished memories together, making it great for a first anniversary gift for your spouse.

32. "Charles Bukowski" Fine Art Love Quote Print
A remarkable love poem of classic literature set in old typewriter typography, this print will make a timeless and romantic gift.
A poem by Charles Bukowski, this is the ultimate sentiment of love for the spouse who isn't overly eloquent with words themselves.
33. Autumn Forest Canvas Print
Your bedroom or living room walls are empty, and you need an anniversary gift for your art-loving spouse.
If that is your predicament, then this picturesque multi-paneled canvas art could be just what you need.

34. One Year Booklet with Matching Card for Paper Anniversary – First Anniversary Memory Journal
A great journal to record the memorable and not so memorable occasions for your first year of marriage.

35. 1 Year & Counting Wedding Anniversary Coin Key Chain
Give your spouse an anniversary gift they will carry with them everywhere.
Just like a penny is the beginning of something more, so is the first year of marriage, and these cute little key chains will always remind each of you of the significant years still to come.

36. The First, Yes, and Best Day Art Print
A new piece of art to decorate the house is always a good paper gift idea.
A piece of art that tells the story of your newlywed journey together is a total winner. This 8×10 print immortalizes the dates of your first date, proposal, and the wedding.

37. Precious Moments "A Whole Year Filled With Special Moments", 1st Anniversary Bisque Porcelain Figurine
This beautiful and sentimental figurine will be a hit.
It will help both of you to reminisce about memories from your first year of marriage.

38. T-HAOHUA Our Adventure Book,Pixar Up Movie Theme
Marriage is nothing if not an adventure! The movie "Up" captures that reality perfectly.
In addition, this sweet memory book/photo album, just like the one Carl and Ellie had, will be the perfect place to record your own life adventure as a newlywed couple.

39. Love Notes From Me to You: A Fun and Personalized Book With Prompts to Fill Out
Your husband/wife will love to receive this personalized and thoughtful paper gift from you.
Just answer the prompts with your words, wrap, and give it to them.

40. Autographed copy of their favorite book
Are you willing to splurge a little? Wonderful books bind not just pages, but hearts and minds together.
If you can do the legwork it takes to track down an autographed copy of their favorite book, they will never stop thanking you.
41. Kate Posh – Our First Anniversary – they say the 1st year is the hardest, but when you married your best friend, nothing could be easier – Picture Frame (5×7 Horizontal)
You need photos of yourselves that aren't just of the two of you in a white dress and a tux! Plus, the words of this frame capture how most newlyweds feel after their first year together.
Add a recent photo of the two of you, and your husband or wife will treasure this keepsake forever.

42. Movie or favorite concert tickets
Entertainment is always a big hit. I'm sure you have gone through a year of ups and downs together and would really enjoy the chance to get out of the house and just do something fun together.
A pair of tickets to a great show will give you both something to look forward to and make for a memorable evening.
If you can afford it, rent a limo to drive you around and enjoy feeling like stars celebrating your first year of marriage and the many years to come.
For the crafty couple or spouse, this starter kit to calligraphy makes for a unique and thoughtful anniversary gift.
Though calligraphy has become a lost art, it has been gaining popularity as of late as it is still timeless and enriching.
Satisfy your creative side by taking up the art of calligraphy and make your spouse a beautiful, handmade card for your first wedding anniversary.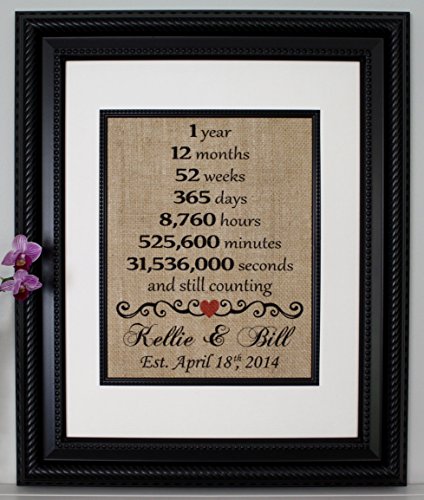 Beautifully printed on burlap, this piece counts the time you've been married down to the seconds. By the time they get to the bottom, they'll know it's still not enough.
With this anniversary gift framed in your home, your husband/wife will look forward to many more seconds, minutes, hours… to come.

45. Papercraft Handmade Greeting Card
Gift your spouse a simple card this anniversary and let them know you care.
This cute pop-up card is perfect for the occasion. Pair it with a bottle of their favorite wine or dessert, or just gift it alone.
First wedding anniversary gifts for wife
1. AM Wife T-Shirts With Sayings Wife Best Friend Lover Partner
Remind your wife of the qualities that made you decide to marry her with this humorous t-shirt.
She can wear this shirt on your first wedding anniversary, at home, or to any occasion.
Also available in other colors.

2. Fair Trade Imara Cuff Bracelet – Pink- BeadforLife Paper Jewelry from Uganda
Can you believe these beautiful beads are made of paper?
This bracelet is gorgeous, makes a perfect accessory because it's available in lots of colors, and when she wears it she'll feel powerful and resilient.
3. Fair Trade Musana Earrings – Multicolored- BeadforLife Paper Jewelry from Uganda
Who says a paper gift has to be stationary? Give the new wife these bright and colorful fair trade earrings made with paper beads for her first anniversary.
She'll look exceptional, and since the name musana means "sunshine," she'll spread a little warmth wherever she goes.
As a bonus, the proceeds go to benefit those in need in the third world country of Uganda where it's made.
4. A hand-drawn sketch of her wedding dress
Get your wife's wedding dress beautifully sketched and framed for her by My Dreamlines.
This paper gift is the best wedding anniversary gift you can buy for your wife. In addition, you could get a sketch of your suit along with her wedding dress.
Click here to get a personalized sketch made for her now
5. Miniature Book Necklace – Stack of 3 Mini Books with Mini Heart Charm
If she's a reader, she'll treasure this necklace featuring three tiny books bound together with a heart charm.
It will tell the world something about her, and it will remind her of simple pleasures. You can even coordinate the color of the books with her wardrobe.
6. Fair Trade Asali Necklace – Blue – BeadforLife Paper Jewelry from Uganda
Asali means "honey" in Swahili, and this necklace is a sweet way to tell that new wife you love her on her first anniversary!
The beads are made of paper and glass, and they are just right for dressing up a casual look or for something more formal.

7. Glass KindNotes INSPIRATIONAL Keepsake Gift Jar of Messages
Every day isn't a holiday, a birthday, or an anniversary. Sometimes on those ordinary days, we need a pick-me-up, and this little jar does just that.
This gift for an anniversary will make her feel good all month long, with 31 envelopes, each containing an inspirational message for the day.

8. Do You Know Your Husband?: A Quiz about the Man in Your Life
After being married for a year, she thinks she knows her husband… but does she really?
This cute little book has 100 questions to ask him that she may not know the answer to, but she'll have a great time finding out.
First wedding anniversary gifts for husband
1. AM Husband T-Shirts With Sayings Husband, Best Friend, Lover
Remind your husband of the qualities that made you decide to marry him with this humorous t-shirt.
He can wear this shirt on your first wedding anniversary, at home, or to any occasion.
Also available in Blue, Cranberry, Heather, and Green.

2. Leather Journal Writing Notebook
This gift is handsome and rugged—just like him.
For the guy who is thoughtful and deep, a journal is a pleasant way of acknowledging that he's got a lot going on inside and needs a place to express himself.

3. Spark by Ergodriven | The Perfect "Start Standing Now" Standing Desk
If your husband has always wanted a standing desk, this durable desk made from paper will be perfect for him.
It is small enough to fit on most work desks, sturdy and inexpensive.

Lyrics of the John Legend song "All of Me" are printed on the cufflinks. He will remember his wedding song and the woman he loves whenever he gets dressed up for a night on the town.
It's definitely a great first wedding anniversary gift for your husband. Plus, he'll look sharp, too.
5. F. Scott Fitzgerald "This Side of Paradise" Love Quote Print
This gift is geeky and steamy all at the same time.
A timeless quote in vintage type hung on cotton paper—oh so classic. It's a man's take on love, and he'll totally dig it.
6. Lucky Penny – Custom Penny – Penny Keychain – 1st Anniversary
This penny key chain is hand stamped with the couple's initials, their wedding date, and a heart around the year.
This is a great first wedding anniversary gift for your husband because it's subtle and strong, without being overly sentimental. He'll be happy to carry this quiet token of love wherever he goes.
7. Do You Know Your Wife?: A Quiz about the Woman in Your Life
Now it's his turn! Give the new husband a chance to share all he's learned (or hasn't learned!) about his lovely bride with this fun book of questions.
He may surprise you with all the details he's picked up through the year.

8. JustPaperRoses ® "Happy Anniversary" Toilet Paper Gift, Just Paper Roses
Hilarious. And just right for the guy's guy who gets a little squirmy when things start getting sappy. Here's to the wife who gets her hubby toilet paper for their paper anniversary.
You're a champ, and he's darn lucky to have you.

9. Desk Pen Set with Engraving
This clock will be an impressive addition to his desk.
You can personalize it with his name, a name you both share, like last name, or something meaningful.
Creative DIY paper gifts ideas for first wedding anniversary
Still not sure what to give or buy for the first wedding anniversary? Want to put more heart (and a little less money) into it?
Here are some cool and unique do-it-yourself paper anniversary gift ideas.
1. Deck of cards
Take a deck of cards and on the face of each one, write one reason you love your spouse. Make them short and simple, like "You give great hugs," or "Your laugh."
Punch a hole through the corner of each card and tie them up with a ribbon.
2. Decoupage
Find a piece of reclaimed wood and glue on cut-out hearts (use newspaper, pretty stationery, or any color paper to create the perfect look).
Put a photo of the both of you in the middle and seal it all with mod podge. Add a hook on the back for hanging!
3. Photo puzzle
Create a photo puzzle by gluing a photo of the couple onto a mat board, then cutting it into interlocking pieces. Wrap up the pieces along with a cute frame to hold their completed puzzle.
Wrap up the pieces along with a cute frame to hold their completed puzzle. If you're really artsy, write along the bottom of the photo, "You're my missing piece."
4. Connecting hearts
Cut a section of old road map to fit an 8×10 frame. Glue two hearts on opposite sides of the map and use a marker to trace a road connecting them. Write or print "You found the way to my heart" along the bottom.
Write or print "You found the way to my heart" along the bottom.
5. Gift box
Buy a small gift box and put lots of strips of light colored paper inside. Write sweet or funny memories of them down on several of the strips, but leave most of them blank.
Include a nice marker or pen so they can write more memories down to cherish forever.

Romantic and inexpensive ideas to celebrate your first wedding anniversary together
Below are ideas you and your spouse can do to make your 1st wedding anniversary memorable.
1. Visit somewhere you have not been before.
Choose a place that you both have not been before, but want to visit near where you live.
And go there together. You can even have a picnic while you are there.
2. Revisit your honeymoon location.
3. Watch your wedding video and pictures together.
4. Make an investment together.
For example, you can buy a home together.
5. Take a class together.
It could be a dance, yoga, art, cooking, etc class.
6. Have a couple's massage.
7. Renew your vows and share your first dance.
Final thoughts
As you can see, most of the gifts are great paper gifts ideas that will help you celebrate your first year of marriage journey.
Whether you're looking for something silly, sexy, sweet, or strong, this list of first anniversary paper present gift ideas has you covered.
Now that you know where to start, you have no reason to fear shopping for the perfect wedding anniversary gift. And also, no excuses, even if you don't know what to get for your husband or wife!
Happy shopping, and here's to celebrating your first year of marriage.
Have a happy and wonderful anniversary.
Your turn
If you are yet to celebrate your first wedding anniversary, which gifts do you want to buy or make?
If you are past your first wedding anniversary, how did you celebrate your first year of marriage?
You might also like:
Best Leather Anniversary Gifts for Couples
Best Cotton Anniversary Gifts for Couples
Best Wooden Anniversary Gifts for Couples
30 Unique Valentines Day Gifts for Your Wife
Best Christmas Gifts for Couples
Image via Freestocks.org