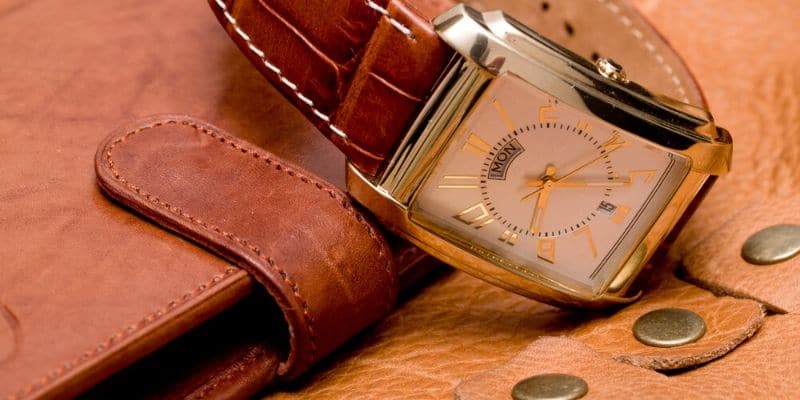 Looking for unique leather anniversary gifts to share with your loved one on your third wedding anniversary? It doesn't always need to be diamonds or chocolates or flowers.
We have come up with some great modern ideas on the traditional leather gifts for your third wedding anniversary. Try this list for a set of truly unique leather gift ideas.
If you have always loved the look, feel, and durability of leather, this is the perfect read for you. Leather can be just as sweet and romantic as a heartfelt card with flowers.
Now, choose a section to start with:
Best unique leather anniversary gifts for either husband, wife or both
Best leather anniversary gifts for her
Best leather anniversary gifts for him
Best unique leather anniversary gifts for either husband, wife or both
1. Leather Third Wedding Anniversary Gifts for Him Her T-Shirt
Although this shirt is not made of leather, it shows how happy you are to celebrate your third year of marriage.
The shirt says, married 3 years and looking forward to forever. You can wear it to make a bold statement about married life.
To get it in multiple colors, just click on the company name.

2. Personalized Leather Bracelets Set of 2 Matching Roman Numerals Coordinates Cuffs
Why not go one step further and buy a matching pair of bracelets for you and your spouse to share. Engrave the date of that blissful wedded day three years ago and be reminded of it whenever you wear the bracelet.
You can go another route and personalize it to say something that is meaningful to your relationship.
If you are looking for a leather gift for the couple, you can't go wrong with this pair of unique and personalized leather bracelets.

3. ZLYC Unisex Handmade Vegetable Tanned Leather Hard Eyeglass Case Sunglasses Holder

For the couple who has everything, this eyeglasses case makes for a truly unique gift.
For the leather-happy lover in your life, he/she will get to enjoy it every day. The case comes in several different colors to cater to your desires.

4. EvZ Vintage Retro Leather Cover Notebook Journal Blank String Nautical
This nifty nautical-style notebook is a gift for either of you to enjoy.
With its perfect genuine leather cover and unique cross-binding, the notebook sticks out as a statement piece amongst your other notebooks on the bookshelf and would make a great journal.

5. S-ZONE Vintage Leather BackPack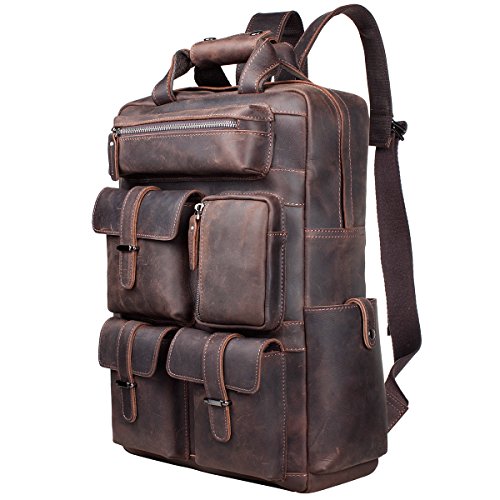 Sticking to the theme of leather, this vintage backpack will make a great addition to anyone's luggage stash. With this oversize backpack, there's so much more to love.
With enough space in the center pocket for a 17-inch laptop and tons of front zipper pockets for all your necessities, you will never have the need for another bag again.
Genuine leather that darkens with age, this is a bag that looks more luxurious the more it is used.

6. Limited Edition Premium Leather Cover for Kindle Paperwhite
You have to love the look of leather! If you've read up to this point, we know you do. No detailed explanation needed with this sweet deal.
This leather Kindle cover will offer protection and quality.
If your kindle is in need of either, pair it with this beautiful, high-quality cover that will last you for years.
Nothing says sharp and sophisticated more than this rustic leather portfolio.
A perfect leather gift for those who enjoy the elegance and natural beauty of fine leather, this portfolio will make a perfect pair with your leather messenger bag.
8. Customizable Leather Camera Strap
Set your spouse's camera apart by customizing this gorgeous leather strap to write their name and make it that much more meaningful to your spouse.
This is another great leather anniversary gift that is both suitable and sophisticated.

9. Vintage Style Pen Pencil Case Leather Pouch
For the art lover in your life. This is a great leather gift for young and old, students and professionals alike!
The compact design makes it travel-friendly and oh-so-handy to hold all the writing or artist utensils you need.

10. Hidden Secret Message Leather Bracelet Personalized with Custom Quote Date or Coordinates with Strong Hypoallergenic Magnetic Clasp
Thoughtful, romantic and stylish to boot, this leather bracelet is hand-crafted to your specifications.
Engrave something you always say to your wife or perhaps something your husband loves to hear, or perhaps the words are simply "I love you".
Whatever your heart says, say it with this gorgeous and timeless leather bracelet.

11. Rembrandt Leather Business Card Holder
Another perfect and professional piece, you can now have a matching set of briefcase, business portfolio, and business card holder.
Set them up for success and get your spouse something extremely useful and incredibly nice.
12. Large Genuine Leather Photo Album with Gift Box
After three adventurous years of marriage, you and your spouse are sure to need a durable photo album to store the multitude of memories you've collected.
This hand-crafted, genuine leather photo album is a rustic yet elegant space for the click-happy spouse who loves to take photos!
13. Vintage Messenger Bag Briefcase
Walking into work with a leather messenger bag makes a statement.
Your appreciation of high-quality, professional products doesn't go unnoticed and your bag is sure to be spotted and admired.
This briefcase has tons of storage for all your work needs and then some.

14. Perris Leathers Soft Suede Guitar Strap with Sheep Skin Pad
This beautiful leather guitar strap is the perfect gift for the music lover in your life.
The strap is made of soft suede on the outside and sheepskin padding on the inside for ultimate comfort.
Now, your spouse can play until the cows come home.
15. Shvigel Leather Passport Holder
Another beautiful bound-in-leather gift, passport covers are never a bad idea!
Travel in style and comfort in knowing that your passport will be protected wherever it goes.
Made of 100% real leather, there are several colors to chose from so you can meet your spouse's personal style. Add in some plane tickets for a fun adventure.
16. Apple Watch Band
As sleek and handy as the original Apple Watch, but twice the style and comfort. For him or for her, this is a great leather gift for just about anyone.
All of your favorite things quite literally in the palm of your hand.
The waterproof Apple watch can keep you connected through its phone call technology, track every step and help you lose weight, and make shopping easy with Apple pay.
There's nothing lacking from the new leather strap Apple watch.
17. TOPHOME Cord Organizer Headset Headphone Earphone Wrap Winder/ Cord Manager/ Cable Winder with Genuine Leather Handmade
Get this beuatiful leather earphone or headphone wrap winder for the couple to use to easily store their earphones.
18. Lawrence Frames Black Leather 4 by 6 Picture Frame
Take a picture together on the day of your 3rd wedding anniversary and frame it with this durable leather picture frame.
Also, you can frame one of the beautiful pictures you took together during your third year of marriage.
Best leather anniversary gifts for her
1. Shakun Vintage Leather Cross Body Bag
This is a bag that will feel luxurious draped across your body.
A hand-crafted and genuine leather gift, this vintage bag is a stylish way to move about your day.
With ample space to hold your everyday items, this is all she could need in a leather accessory.
2. Teva Women's De La Vina Boot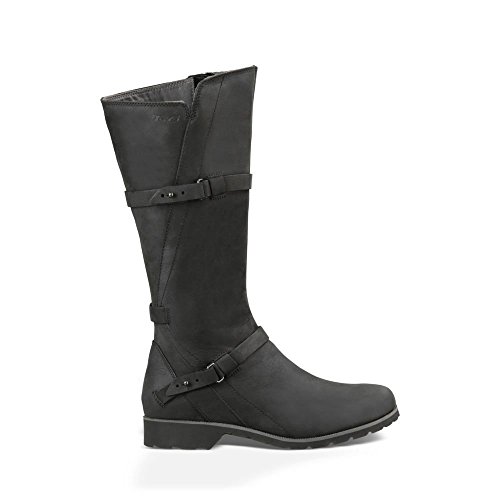 It's chilly this winter, so bundle up and keep your feet warm with these gorgeous leather boots for ultimate warmth and comfort.
This is a durable mid-calf boot with rubber soles for traction and genuine leather outside for stylistic appeal.

3. Tree of Life Leather Journal
This earthy journal exudes life and love.
Give your wife this embossed leather journal this anniversary for her to use as a journal, scrapbook, photo sketchbook or the like.
The possibilities are as endless as her imagination and creativity!
4. Rustic Town RFID Blocking Womens Leather Wallet Cognac Hand Clutch
This unique clutch will make a beautiful gift for her third wedding anniversary. Its compact design is perfect for traveling, yet, still, hold all she needs in a wallet.
Made by artisans in India, this gift is one of traditional and individual skill. Get her this clutch that is unique and genuine as she is. She will cherish this gift as you do her.

As a handmade gift, this statement necklace will certainly appeal to your stunning wife.
A leather necklace band to last holds a perfect sea glass pendant that will speak volumes of your wife's natural beauty and sophistication.
6. Turquoise Blue and Black Leather Earrings
Another handmade beauty, these earrings are surely as unique as she is.
A great gift to wear day after day, these will soon become her favorite. The earrings are genuine leather (of course), made for a light and comfortable wear.
7. Leather Essential Oil Diffusing Earrings
Here's a use for leather you didn't know about. These stylish leather earrings act as a natural diffuser of essential oils.
Put a drop on the back of the earrings and smell the relaxing oils as you go about your entire day. What woman doesn't need that?
8. JOYSON Women's Shoulder Bag
This handbag is a treasure to behold. Light and leathery, this charming shoulder bag has loads of character as well as space.
Now, your wife can even store her books for on-the-run outings and daily commutes.

This elegant bracelet is both feminine and rustic.
With a hint of hippy love, any one of her outfits will have a one-of-a-kind touch with the bow cuff bracelet.
10. Warmen Women's Touchscreen Texting Driving Winter Warm Nappa Leather Gloves
These luxe leather darlings are in. Vintage is adored in this modern, high-tech world.
But while they look vintage, they accommodate for the new with their touchscreen and texting technology. Your wife will never want to take these off come winter time.
11. CUCOL Women's Quartz Bamboo Wood Watches White Leather Strap Minimalist Design With Gift Box
Luxury and refinement come in many shapes, sizes, and materials.
This eco-friendly watch is the whole package, complete with a leather strap and bamboo watch head. It's smooth strap provides ultra comfort.
Despite its minimalist design, this watch will turn heads.
Not something so oppressively leather this time, these comfy Coach shoes are the perfect thing for a hard-working wife.
Coach is a brand you trust to have high-quality products of the utmost fashion. Not only sensible and appropriate, but stylish and available in black too.
You can't go wrong.
13. Leather Bomber Biker Jacket
It's true, every woman needs one of these in her closet. Gift her this fashion-forward, edgy jacket for the Spring time ahead.
A perfect jacket for both the spring and fall, your wife will most definitely get her use out of it. Made of lambskin leather, it is soft and comfortable.
Your wife will thank you.
Best leather anniversary gifts for him
1. Vetelli Leather Toiletry Bag for Men (Dopp Kit) with Travel Bottles

This trendy, dependable item is just the ticket when traveling.
For your leather-loving husband, this toiletry bag is a useful gift that your he can use continuously – if you haven't stolen it for yourself, that is.

2. CUCOL Men's Bamboo Wooden Watch with Brown Cowhide Leather Strap
With your own bamboo and leather watch to match, buy your husband this dashing brown leather strap watch with imported Japanese quartz.
A product of sophistication and modest fashion, anyone will enjoy this eco-friendly watch.

3. Polare Men's RFID Blocking Vintage Italian Genuine Leather Slim Bifold Wallet Handmade
Made only of genuine Italian cowhide leather, this bifold wallet is a durable and practical gift for the man who loves luxury.
For your husband's third wedding anniversary gift, buy him something special, useful and practical.
A leather gift to be used day after day, your husband will enjoy a fine leather belt as dependable and tough as he is.
Offered in black or brown, this belt comes complete with a brass finished buckle.

5. Large Genuine Leather Legacy Journal / Sketchbook with Gift Box
This journal is every writer's dream. For the writer in your life, this will be his favorite go-to sketchbook.
He'll write his stories and sketch ideas to his heart's content with this leather ledger.
6. Weekender Overnight Bag Canvas Genuine Leather Travel Duffel Tote
Quite possibly one of the nicest gifts on this list, your husband is sure to love his new canvas and leather travel tote.
Soft, durable, spacious and worry-free. With several, smaller zipper pockets and an optional shoulder strap, there is nothing else he needs for his travel days.
7. Custom Leather Flask, Handmade Personalized Gift
You don't have to be a drinker to enjoy this flask. Another handmade gift, this flask is completely customizable.
It can be made to your husband's liking with the option of over fifteen colors for the leather exterior.
8. Luxury Men's Touchscreen Texting Winter Italian Nappa Leather Dress Driving Gloves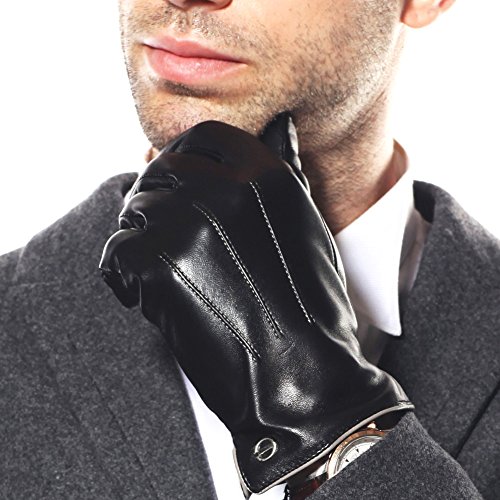 These luxurious leather gloves are made for driving.
Sophisticated and fashionable vintage, they accommodate the new with their texting and touch point control.
Match your husband this winter as you both ride around in style.

9. Personalized Leather Keychain Handmade Gift
For the man who has everything, a keychain is a sweet and simple gift.
Customize it with your names, a special date or a short message to make it pop. You'll never confuse your keys with his again.
10. Timberland Men's EK Brook Park Chukka Boot
These feel just as smooth and luxurious as they look. The ultimate boot for your hubby, it's a versatile design that can be worn with anything for any occasion.
This Timberland boot comes in several different shades and colors of leather to match his personal style.

11. The Leather Factory's Biker Jacket
This edgy jacket is made of genuine lambskin leather. Your husband can now move about in style with you on his arm.

Final thoughts
There you have it, a long list of fine, leathery items should get you started on your hunt for your perfect leather anniversary gift.
Unique and customizable gifts for all personal tastes, styles, and budgets.
Have a great leather anniversary.
Your turn
If you are yet to celebrate your third wedding anniversary, which leather gifts would you get?
If you are past your third wedding anniversary, how did you celebrate your third year of marriage?
Related:
Best Paper Anniversary Gifts for Couples
Best Cotton Anniversary Gifts for Couples
Best Wooden Anniversary Gifts for Couples
30 Unique Valentines Day Gifts for Your Wife
30 Unique Valentines Day Gifts for Your Husband
Image via Kropekk_pl