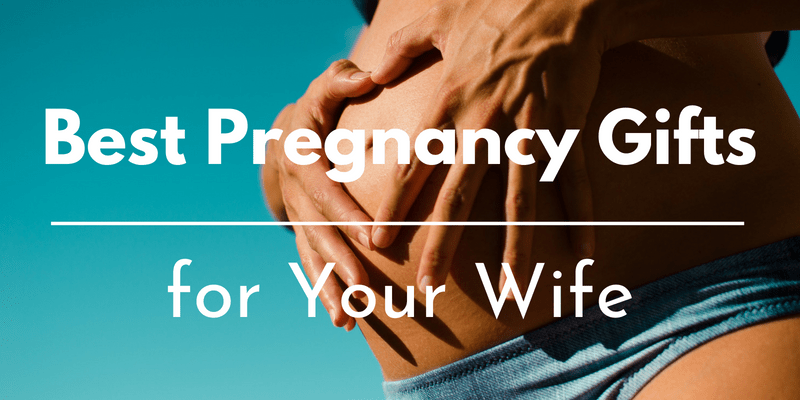 Are you looking for the best gifts for your pregnant wife? Don't know where or what to buy for your pregnant wife?
Well, today, we have gathered the best pregnancy gifts you can give to your pregnant wife for any occasion. 
These pregnancy gifts are also perfect if you are looking to buy gifts for pregnant women. Even if the gift is for your pregnant wife, girlfriend, sister, friend, co-worker, relative, ex-wife, newly pregnant couples or moms, she will appreciate it.
You can easily go to the section you want to read by clicking one of the links below:
Top 45 best gifts for pregnant wife
Jewelry gifts for pregnant wife
Reading gifts for pregnant wife
Christmas ornament gifts ideas for pregnant wife
In addition, you can click here for the best valentine's day gifts for your wife.
Top 45 best gifts for pregnant wife
1. Leachco Snoogle Total Body Pillow
Pregnancy is a beautiful thing, but it can be an uncomfortable process.
Every woman who is expecting would love the gift of a full night's sleep before the baby arrives. And does what this comfortable pregnancy pillow provides.
Get your wife a Snoogle body pillow for maximum support for her hips, back, neck and stomach. It will keep her and your child healthy and happy for the nights to come.
If you only had one gift to buy, this pregnancy body pillow should be your top pick. (Assuming your wife does not already own one.)
Plus it's one of the best early pregnancy gifts due to how long your pregnant wife can use it. You will not go wrong with it.

2. Christmas Pregnancy Announcement T-Shirt Gift
Surprise your wife during the Holidays with this lovely shirt that says, Tis the Season to be Pregnant. It comes in different sizes and colors.

3. VonHaus Triple Picture Frame for Keepsake
Your wife can use this triple picture frame to keep the pictures of your baby's first ultrasound scan, the ultrasound second scan, and a picture of when your baby is born.

4. Infant Optics Video Baby Monitor
Goodbye, old baby monitors. Say hello to a monitor that actually has a video feed. You and your wife can see and hear your baby, allowing for a new mom's full comfort.
Give her the gift of certainty and security by buying this monitor. It comes with three optical lenses with zooming and panning capabilities.

5. Mama Bear PopSockets Grip and Stand for Phones and Tablets
This lovely pop socket that reads "Mama Bear" is a useful pregnancy gift idea for women. Because your pregnant wife can use it to hold her phone or tablet without having to use both of hands.
Plus, it's designed to last from her first trimester and even after your baby is born.

6. Burt's Bees Baby Bee Getting Started Gift Set
A perfect and healthy pregnancy gift, Burts Bees Gift Set is a wonderful starter kit for your baby's first bath and beyond.
Made with natural ingredients, your wife can use it on your baby's delicate skin. The set includes baby lotion, shampoo and wash, cream-to-powder, baby oil and a bar of soap.
Everything she needs to clean and moisturize your baby naturally.
If you are looking for an inexpensive (cheap) pregnancy gift for your wife, this is the gift to buy.

7. Mama PopSockets Grip and Stand for Phones and Tablets
Similar to the Mama Bear pop socket mentioned earlier, this floral one reads "Mama".

8. Delta Children Canton 4-in-1 Convertible Crib
As you already know, a crib is one of the necessities every pregnant woman will need when she brings baby home.
Your wife will definitely get plenty of uses out of it too.
If you are looking for gifts for newly pregnant couples, we highly recommend buying a crib.

If you are looking for a chair for the nursery, a rocking chair is what your wife needs. And will make it easier for her to sit and breastfeed or rock baby to bed.
In addition, it is a great gift if your wife just gave birth or is a first-time mom.
10. Summer Infant 3D Lite Convenience Stroller
Lets face it, a stroller is one of the essential items every parent needs.
So get your wife this lightweight stroller that comes with an umbrella, room for storage, is easy to fold and can fit in the trunk of any car.

11. AM Funny Pregnancy Shirt: Pollinated T-Shirt for Pregnant Women
What is a cuter way for your wife to announce her pregnancy then this funny "pollinated" t-shirt? The less obvious reference will certainly make for a nice surprise and great conversation.
Buy your wife this humorous "pollinated" t-shirt that she is sure to love. Also available in multiple colors like Pink, Black, and Grey.

12. Audible Membership Gift Card
For the pregnant wife who is a book lover, an Audible membership is a gift she will love.
Just pick from 1 month, 3 months, 6 months, or 12 months membership, and you will certainly make her smile.
Because with this membership, she can listen to books from her favorite authors on days she wants to relax, or in tandem with her daily activities. It's also a great last-minute pregnancy gift for her.
Click here to buy her Audible membership today
13. Savvy Infusion® Water Bottle
You might think your wife does not need another water bottle. But trust us, she needs it.
Due to her being pregnant, she drinks a lot of water now than she used to. Another water bottle will be handy for her.
14. A gift card to a maternity clothing store near you.
Due to the growth of her belly, your wife will most likely not fit into some of her clothes.
A maternity gift card like this one will help her buy the comfy and stylish clothes she needs to wear during pregnancy.
You might be surprised, but she will certainly need one, or two pregnancy clothes to wear. It's a great early pregnancy gift too.
15. Weekly Meal Planner: A 52-Week Menu Planner With Shopping List
Does your family need more help getting organized with meal planning before baby comes?
If yes, then get her a copy of this Weekly Meal Planner to make meal planning easier, organized, and stress-free.

16. Dansko Women's Professional Clogs for work.
Carrying a human being for nine months is not an easy task. Your wife's body changes. More weight is put on her back and feet, especially.
Give your wife a pair of Dansko Professional Clogs to provide extra support and comfort for her aching and tired feet.
If your wife plans to be working until she is about to deliver your baby, buy this Dansko shoe for her. This shoe is also the best for pregnant women who stand or sit for long hours at work.
And due to the durability of this shoe, she can continue using it even after delivery. If your wife prefers wearing sandals, check out this sandal Dansko makes.
17. Floral Mama T-Shirt Gift for Moms
If you are looking for a t-shirt gift for your pregnant wife, who is already a mom, then get this floral shirt for her.
The shirt simply reads, Mama, and is available in multiple colors like pink, black, heather, etc.
18. My Brest Friend Original Nursing Pillow
Your wife will use this nursing pillow to comfortably breastfeed your little one.
Ashley used this nursing pillow to breastfeed our kids when they were little. Because of how convenient they are for breastfeeding, she enjoyed having one.
19. AZMED Maternity Belt, Breathable Abdominal Binder, Back Support
Being pregnant can easily cause a lot of back aches and pains. However, a belly support belt can help alleviate this pain.
Get your wife the belly support she needs. Happy wife, happy life!
20. Love Notes From Me to You: A Fun and Personalized Book With Prompts to Fill Out
Surprise your pregnant wife with this personalized "what I love about you" book. All you have to do is complete the prompts, wrap, and gift it to her.
A sentimental keepsake she will love reading during her pregnancy and after childbirth.

21. Kindred Bravely's Maternity and Nursing Pajamas Sleepwear Set
This pajama set is the perfect nighttime wear for your wife, both during pregnancy and into motherhood. The pants have a stretchy elastic waistband that will fit your wife, baby bump and all.
The two-layer design of the top makes breastfeeding easier and more discreet. Elastic-free under the bust for maximum comfort.
22. A prenatal massage gift card.
The third trimester is usually filled with aches and pain. And from our experience, all expecting women, in this case, wives will certainly appreciate a massage gift card from their husband.
You should buy a prenatal massage gift card from a prenatal masseuse in your local area for her. If you have the $$$ you can even schedule a once a week/ month massage visit for your wife.
This gift card is another early pregnancy gift you can buy for your wife.
23. Sunbeam Express Heating Pad
A wonderful, useful gift for your expecting wife, the Sunbeam heating pad heats up in just thirty seconds for quick comfort.
The heating pad is extra-long, allowing your wife to heat and heal her entire back, stomach, or problem area.
But pregnant or not, this heating pad is a perfect tonic for anyone with muscle aches, back pain, and stomach cramps.

24. Malden Baby Memories Picture Frame
For the first ultrasounds of your little one, the Malden Baby Bump Picture Frame is one in which you can cherish that memory forever.
You can display it in your home to share with family and friends and look back on the treasures of pregnancy after your little one has come into the world.

25. Carter's First Year Calendar
This is a wonderful and creative gift for your family during your baby's first year of life. A functional calender, this is an excellent, easy way to record all the firsts of your newborn.
You will both cherish these memories and milestones for years to come.
Bring humor to the delivery room with these non-skid, super-soft socks. When you're getting ready to deliver your baby, skip worrying about the small things and get your wife these labor and delivery socks.
It's perfect for the cold hospital floors. Ready, set, push!

27. Let her sleep in.
During pregnancy, your wife is likely to be deprived of sleep.
Give her some days to sleep in, especially on the days you do not have to leave home early.
28. Sharp Salute Baby Footprints Handprint Kit
When your baby arrives, your wife will be happy you bought Sharp Salute's hand and footprint kit. Unlike other kits of this kind, this kit allows both of you to mold a print of your precious baby's hand or foot before they turn two.
You no longer have to wait to imprint in your memory this special time in your family's life.
29. A pregnancy gift basket set
A pregnancy gift basket set like this one from Earth Mama has samples of different items your wife uses.
If she falls in love with one or more of them, she can then order more of it in larger quantities. Introduce her to something different.
30. Carter's Bound Keepsake Memory Book of Baby's First 5 Years
Much like Carter's Calender, this bound memory book allows you to record important events and baby milestones.
However, this thirty-page book is a journal for mom and dad with pages to record special moments and memories for the first five years of your child's life.
You and your wife can remember the emotions of your child's special day with this keepsake journal.
If your wife plans to pump breast milk, you can add this Handsfree breast pump bra to her gift.
32. Women's Caucasian Peeking Baby Maternity T-Shirt
A pregnancy shirt like this one will make a great present for your wife. It's adorable, comfy, and available in different colors.
Because it's comfortable to wear, your wife will be able to wear it for different occasions such as visits to the store, mall, family visits, doctor's appointment, etc.
33. A manicure, pedicure, and hair appointment.
Keep it simple.
Every woman who loves to get her hair, nails, or toes done will appreciate this gift especially when she is expecting a baby.
"In fact, I am yet to find a pregnant woman who will say no to it. It's one of the best gifts for expecting moms." – Marcus
34. Sketchers Performance Go Walk Shoe for home
Have you ever thought about what type of shoes your wife will wear during pregnancy? I hope you have. Because she will need a good pair of shoe to wear while pregnant.
For the active wife in your life, a pair of shoes she can move in is the perfect gift.
This Sketchers' shoe is easy to walk and run in with ease and comfort. Unlike other support shoes, the Go Walk shoe lets her feet last longer with little to no aching. It's the ultimate comfort shoe for your active, pregnant walk.
35. Designer Hospital Maternity Gown
Why look like a hospital patient in a dreary, uncomfortable gown that doesn't give her the full privacy she wants?
No need to feel exposed and drab in this beautiful, designer maternity hospital gown. Available in many patterns, the gown is made out of 100% cotton and has a snap.
This pregnancy gift is best to give when your wife is in her third trimester.

36. Ergonomic Baby Carrier for Infants and Toddlers
There will be times she will love to have "free hands" after having your baby. And this is where a baby carrier comes in.
The good thing about this baby carrier is that it can be used for wearing infants and toddlers.
Have you thought about baby wearing? This gift will also help you to wear your baby too.
"I have been baby wearing our girls since they were born. If you need help with this, just message us." – Marcus
37. Preggie pops for the nausea and morning sickness
With pregnancy comes morning sickness. And sometimes its very difficult to handle.
But a Preggie pop will help to relieve your wife of the morning sickness and nausea she gets during pregnancy.
When Ashley was pregnant with our girls, Preggie Pops was one of the things we had to buy for her morning sickness and nausea.
19. Give her an amazing foot rub.
You probably haven't done it in a while, so instead of postponing it again, give her an amazing foot rub.
And while you are rubbing her feet, you use this moment to have a great conversation about your future as parents or your baby.
39. A gift card to a spa near you.
A very cool thing you can do is to surprise her with a visit to the spa.
Finally, a diaper bag stylish enough to pass for a purse, but still functions as the ultimate travel diaper bag. Several front pockets and straps for easy stroller attachment are just a few features of this bag.
The bag comes complete with a matching changing pad for on-the-go changes. As you can see, your wife will be able to put a lot of things (baby and mommy essentials) in this bag for when she has to go somewhere with your baby.
41. Mom to Be T-Shirt Promoted to Mommy New First Time Mother
This cool pregnancy shirt is perfect if you are looking for a first-time mommy t-shirt gift for your newly pregnant wife.
As you can see from the shirt, it says, Promoted to Mommy. It's available in multiple colors like blue, navy blue, dark heather, etc.
To get more color options, same design on a sweatshirt or long sleeve shirt, just click on the company name.

42. Don't Mess With Mama Bear Shirt Mothers Day Gift Moms Momma
For Mothers Day, get your pregnant wife this lovely t-shirt that says, Don't Mess With Mama Bear.
It's also available in different colors like black, navy blue, heather blue, dark heather, etc.
43. Push Pack – Prepacked Hospital Labor Bag
A push pack bag is a great gift for expecting mothers. Your wife will be so thankful you got her this bag. Why?
Because it's already packed with most of the items she will need at the hospital after delivering your baby. Your wife can put all the essentials she needs for her hospital visit in this bag.
With this bag, she will not be stressed about having to pack everything for her hospital visit when she is due. At the very least it will get her through her hospital stay.
In addition, it's easy to re-use after leaving the hospital. Your wife can even use it as a cosmetic bag.
As the saying goes, its the little things that matter right?

44. Write her a romantic love letter.
Don't know what or how to write one?
Click here to learn how to write a romantic love letter to your wife.
47. Proudbody Pregnancy Belly Cast Kit
If your wife is creative and sentimental, she will love this unique activity and art piece commemorating the time of her pregnancy.
The kit comes with 25 feet of casting material, an ample amount to cast your chest and pregnant belly. Plus a color decorating idea sheet to inspire and much more!
She will proudly enjoy this eclectic piece for years to come, especially when your child is no longer young.
48. Mama To Be Pregnancy T-Shirt for Pregnant Women
This comfy cotton "Mama To Be" shirt is another perfect gift for your expecting wife who is newly pregnant, first-time moms.
Whether she already has that definitely pregnant look, or you just can't tell yet, this shirt is sure to put a smile on her face.
Order a size up for her growing belly and surprise your wife with this elegantly designed shirt. Also available in multiple colors like Pink, Royal Blue, Black, and Cranberry.
For wives who love to journal, this nine-month belly book will take her from Day 1 of her pregnancy to the time of her labor.
This is a journal dedicated to pictures and words about a woman and her belly and the habits and experiences of being pregnant.
As you know, some memories are best captured in a journal. Give your wife this sentimental pregnancy gift!
50. AM Funny Maternity Shirts – Hands Off The Bump! T-Shirt
What better gift for your wife than this funny, but bold statement maternity t-shirt. This "Hands off the bump!" shirt is sure to give some laughs and keep some unwanted touches at bay.
Surprise your wife with this t-shirt. It's sure to put a smile on her face.
Also available in Pink, Royal Blue, Cranberry, and Kelly Green. And remember, these t-shirts are for newly pregnant women.
51. Womb Music Heartbeat Baby Monitor by Wusic
Do you want your wife to listen to the sounds your baby makes while in the womb her womb?
If yes, then this gift will be perfect for your wife to listen to your unborn baby's heartbeat and other sounds with you.
Jewelry gifts for your pregnant wife
1. Rose Quartz Baby Bonding Bracelet
An amazing gift for your wife, this bracelet made of Rose Quartz stone is a multi-functional accessory.
The semi-precious stone is known to restore hormonal imbalance, aid in restful sleep, and evoke greater love and affection.
Your wife can wear it while pregnant and during breastfeeding as a reminder of which breast was nursed on last.
When your little one does finally come into the world, they'll be pulling on mom's jewelry and teething before you know it.
When that time comes, you'll want your wife to be prepared with Beabies teething necklace and bracelet. She can wear it when your baby gets antsy.
Soft and chewy, the beads are BPA, latex, and rubber free for your infant's safety.
Your wife will no longer worry about baby pulling on her expensive or harmful jewelry with the perfect teething necklace.
3. Qianse "LOVE You Forever" Pendant Necklace
Every woman wants to feel beautiful. A pregnant woman is radiant, so buy your wife a gift that sparkles like her.
Remind her of how beautiful she is to you at this time of stress and change to her body. A two-layer sterling silver necklace, this is sure to be a heartfelt sentiment.
4. A beautiful pair of ear rings
Because a beautiful pair of ear rings will make a great gift for her.

3 Great reading gifts for pregnant wife
1. Ina May's Guide to Childbirth
From experienced midwife Ina May Gaskin, this book is all a mother will need to know in the months leading up to childbirth.
Ina will guide your wife through natural birthing habits and practices, explain the harmful sides to anesthesia and cesareans, how to reduce the pain of labor without drugs, and much more.
Whether your wife chooses to give birth in your home or in the hospital, this book is right for her. It's the ideal book if your wife is expecting for the very first time. (ie newly pregnant wife)
Get this book during the early months so your wife can learn what to do, and what not to do during her pregnancy.
2. Belly Laughs: The Naked Truth about Pregnancy and Childbirth
This book will provide your wife with a realistic view of pregnancy and what she can expect.
Actress Jenny McCarthy spares no humiliating and raunchy detail in her book that any woman or mother can enjoy!
Laughing off the worst and best that a pregnant woman endures, this humorous book will lighten your wife when she is feeling down during pregnancy.
3. Ina May's Guide to Breastfeeding
Another wonderful book from midwife Ina May, her guide to breastfeeding is the perfect book for a first-time mother.
After thirty years of experience, she knows how difficult and rough the journey of breastfeeding can be at first.
With this book, not only will your wife be able to masterfully breastfeed your baby, but share in a joyful and fulfilling bond.
4 Christmas ornament gift ideas for pregnant wife
1.  Resin Mommy to Be Christmas Ornament
3. Expecting Family Pregnancy Christmas Ornament
4. We're Expecting Baby Family of 2 Personalized Christmas Tree Ornament
More great gift ideas for your pregnant wife
1. Magic Bullet Baby Care System
2. Prenatal yoga DVD plus Yoga blocks and straps
3. Ginger chews
6. A breastfeeding/ nursing cover
7. Her favorite ice cream or chocolate.
8. An organizer for her stroller.
9. A pregnancy photo shoot for both of you.
She needs your help!
After having a baby, your wife will appreciate having you home to help her.
She needs your help especially in the early days and first few weeks of having the baby. More specifically, your wife will need help with things like getting the house cleaned, cooking meals, folding laundry, etc.
If you can't do this due to work, try to work out a schedule with someone so she is not home alone.
Now stop wondering about which pregnancy presents you should buy for your wife.
Whether your wife is in her first, second, or third trimester, get her one of the 50 plus pregnancy gifts above. You can even choose one of the gifts and ideas above as a delivery gift for your wife.
When we were expecting our first and second child, we received some of these pregnancy gifts as presents during Christmas. And Ashley's birthday. You can also do the same.
Final thoughts
Whether it is her Birthday, Christmas, Valentines Day, Mother's Day or your Anniversary, she will definitely love to receive one of these presents from her husband.
Don't wait until the last minute to get your wife a unique pregnancy gift. 
Just pick two or more of the gifts above. And wrap them nicely for her. You can even get some of these gifts for your wife even after she has had your baby or given birth.
We hope this list of pregnancy gifts ideas will help you to get a unique gift for your pregnant wife for any occasion. 
Feel free to share this blog post with your friends and family.
Image courtesy Ignacio Campo 
Some of the links in this post are affiliate links. (And are at no additional cost to you) This means if you click on a link and purchase the item, we will receive an affiliate commission.
Related:
50+ Christmas Stocking Stuffers for Your Wife
Best 31 Valentines Day Gifts for Your Wife
Best 37 Mothers Day Gifts for Your Wife
Advice and Tips for New Parents
8 Conversations Every Couple Needs to Have About Sex